In 2020, health and safety crises in local communities have often proven to have national or international consequences. The world has seen how a virus in one community can quickly spread globally, or a shooting in another community can inspire civil rights movements in numerous countries. Worst-case scenario training did not fully prepare local, state, or federal stakeholders for COVID-19. Social justice reforms of the past did not close the racial, gender, and other societal gaps. However, even this pandemic is not the worst-case scenario the world could possibly face, and current calls for social justice are not the last to be heard.
The confluence of natural disasters, civil unrest, public health threats, and political discord creates a perfect storm for domestic and international preparedness efforts. Wildfires, hurricanes, floods, and other natural disasters drain critical resources at faster rates as these threats increase in frequency and severity. As physical attacks and cyberattacks from domestic and foreign actors threaten communities, law enforcement is being pushed toward reform on a much larger scale than in previous decades. A pandemic with no end yet in sight spurs division among leaders in how to handle the crises while those on the frontline face equipment, personnel, and other resource shortages. On top of all that, the United States and other countries are holding highly contested elections with long-term impacts on preparedness and resilience efforts.
One realization these challenges highlight is that there will always be a need for well-informed preparedness, response, and resilience professionals. This year offers a wealth of lessons learned and development of best practices that should not be overlooked or drowned out by the myriad crises that are affecting daily life and operations. By asking the right questions, leaders can make informed decisions on next steps and establish processes to help close gaps in preparedness plans and build resilience across agencies, disciplines, and borders.
As response agencies attempt to bring calm to the chaos of daily operations and rebuild trust by informing, protecting, and safeguarding their employees and surrounding communities, gaps and challenges will continue to arise. Opportunities also will continue to surface but are only beneficial if leaders effectively leverage them to enhance preparedness, response, and resilience efforts for current and future disasters. The articles in this issue of the DomPrep Journal promote using the current spotlight on preparedness to make systemic change that will help protect generations to come.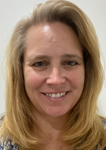 Catherine L. Feinman, M.A., joined Domestic Preparedness in January 2010. She has more than 30 years of publishing experience and currently serves as editor of the Domestic Preparedness Journal, DomesticPreparedness.com, and the DPJ Weekly Brief, and works with writers and other contributors to build and create new content that is relevant to the emergency preparedness, response, and recovery communities. She received a bachelor's degree in international business from the University of Maryland, College Park, and a master's degree in emergency and disaster management from American Military University.