Despite emergency planners using worst-case scenarios and high-impact, low-frequency events when planning for disasters, experiencing an event in real time exposes gaps in those plans that were not foreseeable (or at least not included in the plan). Furthermore, as time goes on, resources and other needs naturally change. In order to meet today's disaster support needs, continuous planning, reevaluating, and updating are necessary in order to minimize the impact of any disaster.
One type of event that can be overlooked when resources and time are stretched – due to planning for known risks and threats – is an event that is relatively new to a particular geographical area. For example, non-earthquake areas are experiencing earthquakes with greater frequency and intensity than have in past decades. Although relatively small compared to their Western earthquake-prone counterparts, recent earthquakes on the East Coast of the United States has proven to have devastating effects when such plans are not widely incorporated and practiced.
Another type of event that can leave communities underprepared is the worst-cast scenario. Despite discussing such a plan, many organizations do not dedicate a lot of time and resources to unlikely scenarios. Public health crises, for example, come in many forms and, for the most part, public health agencies are prepared for them. However, a key component to most disaster plans is mutual aid. COVID-19 has created a gap in that plan because the typical collaborating agencies may be unable or unwilling to share resources when they know that they too need or soon will need them. This is just one tough choice that decision makers need to consider.
Other difficult decisions that are not often addressed in disaster plans are acceptable losses, security, and new technologies. When resources and supply chains cannot keep up with demand, losses in lives and property are inevitable. If resources are not available to sustain an entire population, then tough decisions must be made to determine how the resources will be allocated and how these resources will be protected and secured during uncertain times. In some cases, new technologies can offer significant benefits during disaster response and recovery, but these purchasing decisions come with other regulatory and privacy concerns that will leave gaps if not addressed in advance of a disaster.
Regardless which type of disaster a community faces, there needs to be buy in from the whole community. Each stakeholder has a role to play. If a stakeholder(s) does not play that role when the planning scenario emerges in real time, gaps will widen when resources may not be able to fill them. After all, a plan is only as good as its execution. This edition of the DomPrep Journal addresses how disaster planning and response efforts are adapting to provide critical support during disasters that are emerging or evolving in new and sometimes unexpected ways.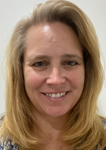 Catherine L. Feinman, M.A., joined Domestic Preparedness in January 2010. She has more than 30 years of publishing experience and currently serves as editor of the Domestic Preparedness Journal, DomesticPreparedness.com, and the DPJ Weekly Brief, and works with writers and other contributors to build and create new content that is relevant to the emergency preparedness, response, and recovery communities. She received a bachelor's degree in international business from the University of Maryland, College Park, and a master's degree in emergency and disaster management from American Military University.