According to the National Weather Service, there were 107 fatalities across the United States related to heat in 2017 – more than the deaths related to tornados, hurricanes, and cold weather combined. Local emergency management agencies must work closely with the National Weather Service – as well as other agencies and organizations – to monitor extreme heat and related threats that can affect local communities.
Extreme heat is a significant hazard. Exposure to extreme heat over an extended period can lead to heat stroke, heat exhaustion, heat cramps, sunburn, heat rash, and even death. Older adults, individuals with chronic health conditions, and people who use certain medications or abuse drugs or alcohol are among those at the highest risk for heat-related illness.
Keeping Residents Cool
Cooling centers can help community members avoid the adverse effects of extreme heat. These centers are air-conditioned spaces such as senior centers, community centers, public libraries, and other public facilities that typically operate during normal business hours. Through partnerships with city agencies and organizations such as the Department for the Aging, Parks Department, Housing Authority, The Salvation Army, and public libraries, these spaces are available to the public during a heat emergency.
Before each summer, emergency management agencies should collaborate with city agencies and organizations to identify potential cooling center facilities throughout their jurisdictions.
"Much of our work is in identifying air-conditioned spaces that are already being utilized by community members such as senior centers and libraries," said New York City Emergency Management Advance Warning System Program Manager Christopher Pagnotta. "Residents are more likely to go to facilities that they know and trust. Many of these facilities also have daily programs and activities to engage the public and provide them relief from the heat."
Signage to cooling center facilities in multiple languages helps the public identify cooling center site locations within their neighborhoods and understand the dangers of extreme heat.
Technological Solutions for Heat Emergencies
New York City employs several campaigns that could be adapted to the needs of other jurisdictions to inform the public and mitigate the consequences of heat-related injuries and deaths:
During extreme heat, New York City Emergency Management officials urge individuals to go to an air-conditioned space during the hottest parts of the day. For those who may not have access to an air-conditioned space, cooling centers throughout the area offer respite, but only if they are accessible and easy to locate.
"The Cooling Center Finder is a map-based online tool that allows New Yorkers to get up-to-date information on cooling centers in their area," said New York City Emergency Management Geographic Information Systems Director Joshua Friedman. "The online portal can be activated instantaneously and is a great tool in combatting extreme heat for those without air-conditioners."
With interagency planning and collaboration, cities can minimize the impact of heat-related emergencies within their jurisdictions. Staying in constant contact with cooling center facilities and frequently updating the roster based on changes in availability – for example, if the air-conditioner at a cooling site is out of order – emergency management agencies and others charged with protecting the public can mitigate heat-related threats.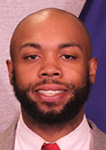 Tashawn Brown is the press assistant at the New York City Emergency Management Department, where he has responded to various disasters and emergencies. As press assistant, he assists the press secretary and deputy press secretary in day-to-day press operations and serves as one of the agency's spokespersons, helping to develop and distribute information to the news media. He has been at the forefront of expanding the reach of New York City Emergency Management, connecting with relevant academic and trade publications to promote agency content. Prior to joining NYC Emergency Management, he worked as a research analyst at The City of New York, Mayor's Office of Media and Research Analysis. The author can be reached at (718) 422-4888.