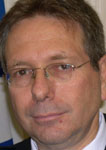 DomPrep's John F. Morton met with Brigadier General Simon Perry, Israel National Police. Israel's deputy police attaché to North America discusses his country's counter-terrorism training program for U.S. law enforcement personnel and the increasing threat from homemade explosives while emphasizing prevention, intelligence-led policing, and an overall law-enforcement strategy that "enables citizens to live normal lives."
DomPrep has divided the 25 minute interview into five segments.
Download full audio to your MP3 player.
Listen to Audio Segment One U.S. Police Officer Training through Israel's Law Enforcement Exchange Program (LEEP)
Background on the LEEP and its focus on suicide-bomber countermeasures
Duration: 11 Minutes 12 Seconds
Listen to Audio Segment Two Emphasizing Prevention in Countering the Threat from Homemade Explosives
Defeating terrorists through use of an overall police strategy that "enables citizens to live normal lives." The failure of profiling. Integrating the incident response team to balance rapid clean-up of the site against forensics collection.
Duration: 12 Minutes 44 Seconds
Listen to Audio Segment Three Intelligence Gathering and Analysis
How a culture of intelligence-led policing is essential for prevention. Israel's 97 percent success rate against suicide bombers over the last year. The need for real-time intel sharing across agencies.
Duration: 5 Minutes 51 Seconds
Listen to Audio Segment Four Keeping Abreast of Advancing Counter-Terrorism Technologies
The importance of the National Institute of Justice (NIJ) as an information resource in developing technology for law enforcement.
Duration: 2 Minutes 20 Seconds
Listen to Audio Segment Five Law Enforcement Liaison and the Private Sector
How Israel has enhanced private security for its shopping malls while increasing return on investment for retailers.
Duration: 4 Minutes 48 Seconds
Brig. Gen. Simon Perry, PhD, is the deputy police and liaison officer to the U.S. and Canada for the Israeli Police and Ministry of Public Security at Israel's Washington embassy. He joined the Israel National Police in 1978, following military service as a tanks officer, head of platoon, and deputy head of company. Prior to his current assignment, he served as commander of the Intelligence and Operational Division, the National Unit for Exposing Severe, International and Organized Crime. Prior to that, he was the head of Interpol and International Relations in the Intelligence Department at Israel Police Headquarters, where he managed all Interpol activities in Israel and abroad, and before that he was commander of National Drug and International Operations Unit. In 2003, he received his PhD in criminology from the Law Faculty of the Hebrew University in Jerusalem.
No tags for this post.