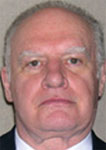 Item: The New York Sun reported last week that the U.S. Coast Guard has been directed to search "any shipping vessel that has docked at an Iranian port within five port calls of coming to American shores." The upgraded DHS (Department of Homeland Security) port-security directive, according to the 16 June article by reporter Eli Lake, "places Iran on a list with seven other nations singled out by the Coast Guard because of lax anti-terrorism controls."
Item: On 26 May, Richard M. Stana, the GAO (Government Accountability Office) director for homeland security and justice issues, told the Permanent Subcommittee on Investigations of the U.S. Senate's Homeland Security and Governmental Affairs Committee that a number of "key cargo security" programs need to be expanded, upgraded, accelerated, and/or otherwise "improved" to "help address the threat posed by terrorists smuggling weapons of mass destruction (WMDs) into the United States."
Item: Many members of the U.S. House and U.S. Senate also have voiced considerable concern over numerous deficiencies in the DHS's port and maritime security efforts – many of the deficiencies are caused by shortfalls in the funding provided by Congress itself, it should be noted – and not only have called for increased funding for expansion of current cargo-screening programs but also mandated, in the SAFE Port Act of 2006, that "a pilot 100 percent cargo-scanning program" be implemented at seven ports. That mandate was repeated and given additional emphasis in the awkwardly named Implementing Recommendations of the 9/11 Commission Act of 2007, which requires, among many other things, that, "within five years, 100 percent of maritime cargo be scanned [overseas] before it is loaded on ships in foreign ports bound for the United States." (Congress significantly weakened the strength of that important "get tough" provision by giving the Secretary of Homeland Security the authority "to extend that deadline if necessary.")
The passage of legislation is extremely important, of course, but accomplishes nothing in and by itself. Also required are, among many other things, appropriation of the funds needed to implement the programs included in the legislation and the recruitment and training of the personnel who will be in charge of those programs. Implementation of the SAFE Port and 9/11 Commission Acts also requires the cooperation of foreign governments (many of which are not always friendly to the United States).
In the field of port and maritime security, the principal action agencies are the DHS's U.S. Customs and Border Protection (CBP) division and the U.S. Coast Guard, which is now also under DHS. Both not only have been underfunded for many years but also have been assigned numerous additional duties and responsibilities in the almost seven years that have passed since the 9/11 terrorist attacks. CBP's "port of entry" responsibilities, for example, under what is called the C-TPAT (Customs-Trade Partnership Against Terrorism) program – the key operational tool available to carry out the mandate to screen 100 percent of all U.S.-bound cargo – require a CBP presence at well over 300 airports, seaports, and various "designated land borders."
A few additional statistics are needed, though, to put the depth and complexity of the 100-percent screening challenge into clearer perspective. Here, there are two examples worth noting: (a) In fiscal year 2007 alone, according to the GAO – in an earlier (April 2008) report on Supply Chain Security – "more than 11 million oceangoing cargo containers carrying goods were offloaded at U.S. seaports." (b) In addition, also according to GAO (in Stana's testimony of 26 May), CBP's "original goal" was to validate the security credentials of all certified C-TPAT members "within three years of certification"; the agency fell somewhat short of that goal, though, validating only "about 11 percent" of certified members in the first three years.
CBP, and the Coast Guard – as well as DHS, the Congress, and the entire Executive Branch of government – all face a daunting and very costly challenge, obviously, in the months and years ahead. However, the cost of not succeeding would be exponentially higher than the cost of carrying out the 100-percent screening mandate. The Department of Defense's unofficial estimate of the dollar-cost alone of the 9/11 attacks was "$1 trillion, and counting." That figure does not include the cost of the more than 3,000 innocent lives lost in that second grim date that will live in infamy. The cost in dollars, and in lives lost, of a nuclear explosion in or near a major U.S. seaport would be much, much higher, and the cleanup effort required after such a cataclysmic event might well take not months, or even years, but several decades.
No tags for this post.