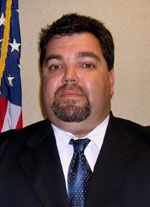 DomPrep's John F. Morton met with Justin Thomas Russell, Director for Port Security, Center for Security Strategies & Operations, Anteon Corporation. Mr. Russell emphasizes the importance of balancing port and cargo security policy-making against the business requirement for the unfettered flow of commerce. Praising full stakeholder involvement in policy development, he notes the DHS progress in supporting outcome-oriented measures for information sharing and comments on how process and commercial off-the-shelf technology solutions (COTS) are streamlining business and security decision-making – a development that, he says, holds promise for the implementation of non-invasive profiling and "fast lane" measures.
DomPrep.com divided the 34 minute, 14 seconds interview into five segments.
Listen to Audio Segment One Ports Investment Strategies, Risk-Based Strategies
The trend toward matching fund opportunities coming from the state level to meet federal requirements. The need for port authorities to take into account integration issues and interoperability with other homeland-security agencies. The need for risk-based assessments to take into account critical infrastructure at smaller ports – e.g., vital transportation systems such as island ferries. Balancing port security against measures that would hinder commerce. Why state requirements documents such as the Florida Seaport Security Act must align with the Maritime Transportation Safety Act (MTSA). Streamlining business and security decision-making.
Duration: 9 Minutes 13 Seconds
Listen to Audio Segment Two Cargo and Container Security
The GAO report and the Container Security Initiative's (CSI's) management challenges for shipment targeting and inspection. Customs and Border Protection (CBP) progress in outcome-oriented measures for information sharing. The difficulty in determining minimum technical requirements for equipment.
Duration: 6 Minutes 38 Seconds
Listen to Audio Segment Three Stakeholder Engagement in Developing Policy and Information Sharing
The Operation Safe Commerce (OSC) program and the CSI role in providing the baseline for a uniform information-sharing protocol/policy. The centrality of the Customs and Trade Partnership Against Terrorism (CTPAT) initiative to align foreign exporters and CBP. Balancing competitiveness with information sharing.
Duration: 6 Minutes 29 Seconds
Listen to Audio Segment Four Profiling High-Risk Cargo
Forensics approaches for non-intrusive inspection, such as mobile Vacis, gantry-base X-ray systems, radio-isotopeentification devices (RIIDs), and radiological portal devices. Industry and the DHS S&T Directorate's efforts on streamlining non-invasive detection for "fast lane" measures.
Duration: 5 Minutes 57 Seconds
Listen to Audio Segment Five Promising Technologies & Increasing Exercises
COTS solutions that will move forward, specifically RFID tags and GPS tracking, for cargo security. For port security, Maritime Domain Awareness (MDA) technologies – e.g., for wide-area surveillance and underwater detection–that have particular promise. The increasing emphasis – driven by the Coast Guard's maritime exercise program and MTSA requirements – on port-security exercises with regional components.
Duration: 5 Minutes 51 Seconds
Justin Thomas Russell currently serves as the Director of Port Security for Anteon Corporation's Center for Security Strategies and Operations based in Arlington, Virginia. Since joining Anteon in January of 2004, Mr. Russell has been part of a team responsible for providing subject matter expertise on matters relating to port security, commercial port operations, policy development, port security assessments, grant acquisition, cargo and container security, underwater port security, emergency response and preparedness. He is active in various industry organizations, including serving as the corporate representative to the American Association of Port Authorities.
First Annual DomPrep Maritime and Cargo Security Roundtable – chaired by Randall Yim, Executive Director of the Homeland Security Institute and featuring Justin Russell along with a panel of other Maritime, Port and Cargo Security Experts.Free to registered visitors, just click on WebConference
No tags for this post.