An Article Out Loud from the Domestic Preparedness Journal, March 15, 2023.
In March 2023, FEMA published the Response and Recovery Federal Interagency Operational Plan. Learn about this big step forward for the emergency management community – the development and content of this new plan as well as the next steps for key stakeholders.
Narrated by MacGregor Stephenson.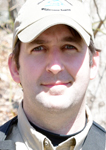 Robert J. (Bob) Roller serves as the Federal Emergency Management Agency's (FEMA) National Planning Branch Chief and co-led the development of the Response and Recovery Federal Interagency Operational Plans (FIOP). He also has years of experience as a firefighter and emergency medical services (EMS) provider in both wilderness and urban environments. He is a frequent contributor to Domestic Preparedness and recently published a memoir regarding his early experiences as a wildland firefighter. The views expressed here do not necessarily represent the views of FEMA or the United States government.