An Article Out Loud from the Domestic Preparedness Journal, March 15, 2023.
Common terms like "Tornado Alley" should not get in the way of planning for evolving environmental threats. Meteorologists look at trends and recognize that tornadoes are one natural hazard that is shifting eastward. Make sure state and local hazard mitigation plans are updated and ready for this shift.
Narrated by MacGregor Stephenson.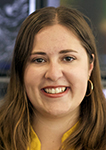 Cameron Gonteski is a meteorological operations specialist at The Weather Company, an IBM Business. She graduated from Millersville University of Pennsylvania in 2022 with a B.S. in Meteorology and a minor in Environmental Hazards & Emergency Management. Being very active in the emergency management field, she recently won the 2021-2022 Student Chapter of the Year Award under the International Association of Emergency Managers as student chapter president. As a meteorologist, she strives to connect the emergency management and meteorology fields to promote greater community resilience.