An Article Out Loud from the Domestic Preparedness Journal, March 1, 2023.
Evolving threats require integrated public safety approaches. Concepts like the Rescue Task Force, models like the Cynefin Framework, and numerous other available resources can help communities develop collaborative response plans for evolving threats and complex coordinated attacks like fire as a weapon.
Narrated by MacGregor Stephenson.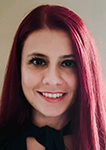 Eva Jernegan holds a master's in Forensic Psychology from George Washington University and works with the intelligence, violence prevention, and national security communities. Eva was the lead researcher for the Arlington County High Threat Response Program, with investigative and threat assessment training and practical experience in various settings. She has been involved in multiple initiatives to build capacities for the public safety community and identify and mitigate local, state, and national threats. Currently, Eva supports the federal government in efforts to counter Weapons of Mass Destruction (WMD) terrorism on the international level and serves on the Board for the D.C. Mid-Atlantic Chapter of the Association of Threat Assessment Professionals (ATAP).