An Article Out Loud from the Domestic Preparedness Journal.
Active shooter trainings can help prevent some injuries and deaths. However, additional measures should also be taken to prevent the attack from occurring. This article describes how to apply environmental design to thwart attackers.
Narrated by MacGregor Stephenson.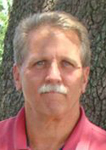 Rodney Andreasen is a retired emergency management director from Jackson County, Florida. After serving approximately 20 years in that position, he retired in December 2020. Before that, he served 21 years in the Air Force, retiring as a Master Sergeant. He currently owns Xspct LLC providing consulting services on active shooter prevention and Crime Prevention Through Environmental Design. He is a graduate of the University of Southern Mississippi with a master's degree in Technical and Occupational Education, Auburn University of Montgomery with a master's degree in Justice and Public Safety, and the Naval Postgraduate School with a master's degree in Security Studies Homeland Security and Defense.