An Article Out Loud Flashback from the Domestic Preparedness Journal,  June 03, 2015.
A peaceful protest can quickly turn to violence, and private-sector corporations sometimes get caught in the middle. Learn how one company ensures the safety of its personnel in this 2015 article.
Narrated by Randy Vivian.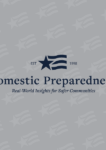 Vincent B. Davis is senior program manager for Walgreens Corporation Emergency Preparedness and Response Team, where he is responsible for developing disaster plans and programs for the company's 8,600 stores and facilities worldwide. After retiring from the Illinois National Guard with 23 years of experience in military public affairs, he served as: external affairs and community relations manager at the Federal Emergency Management Agency (FEMA); regional preparedness manager for the American Red Cross of Greater Chicago; and private sector consultant to the Illinois-Indiana-Wisconsin Regional Catastrophic Planning Team. He holds certifications as an Illinois Professional Emergency Manager, FEMA Professional Continuity Practitioner, and Certified Emergency Manager, and is a member of the International Association of Emergency Managers Children's Caucus and a lifetime member of the Black Emergency Managers Association. He is author of "Lost And Turned Out, A Guide To Preparing Underserved Communities For Disasters." He also is vice president of strategic alliances and community relations for PrepWorld LLC, creators of PrepBiz Video Gamification for Disaster Preparedness Education APP for children and the visually impaired.