An Article Out Loud Flashback from the Domestic Preparedness Journal,  June 03, 2015.
A peaceful protest can quickly turn to violence, and private-sector corporations sometimes get caught in the middle. Learn how one company ensures the safety of its personnel in this 2015 article.
Narrated by Randy Vivian.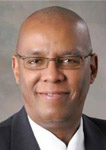 Vincent B. Davis, CEM, is Emergency Supply Solutions Consulting manager for Ready America, one of the nation's leading providers of disaster supplies. He joined Ready America in July 2016 following a stint as senior preparedness manager for Sony PlayStation. Before joining Sony, he was program manager of emergency preparedness and response for Walgreens Co. Following his career in the U.S. Air Force and Illinois National Guard, with 23 years in military public affairs, he served as: external affairs and community relations manager at the Federal Emergency Management Agency (FEMA); regional preparedness manager for the American Red Cross of Greater Chicago; and private sector consultant to the Illinois-Indiana-Wisconsin Regional Catastrophic Planning Team. He holds certifications as an Illinois Professional Emergency Manager and FEMA Professional Continuity Practitioner, and is a member of the International Association of Emergency Managers Children's Caucus and a lifetime member of the Black Emergency Managers Association. He authored, "Lost and Turned Out, A Guide to Preparing Underserved Communities for Disasters (Amazon 2012)," and the Native Emergency Communications Guidebook (Native Public Media) to be released in the spring of 2017 and founded PreparednessMatters.org Consulting. He also managing partner of PrepWorld LLC, creators of PrepBiz educational gaming APP for children.