By IAN PLEET , An Article Out Loud from the Domestic Preparedness, October 18, 2023.
This is Part 2 of a five-part series on emerging technologies that can enhance the management of and response to future emergencies and disasters. This part focuses on technologies designed to perform tasks and reduce human risk.
Narrated by Bonnie Weidler.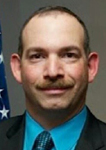 Ian Pleet is a veteran U.S. Navy Hospital Corpsman and has worked as a contractor in U.S. Northern Command (USNORTHCOM), U.S. Indo-Pacific Command (USINDOPACOM), and U.S. Central Command (CENTCOM). He is a Change Management Advanced Practitioner, FEMA Professional Continuity Practitioner, and Nationally Registered EMT.