By IAN PLEET , An Article Out Loud from the Domestic Preparedness, October 11, 2023.
This is Part 1 of a five-part series on emerging technologies that can enhance the management of and response to future emergencies and disasters. This part focuses on an all-hazards emergency management approach and information and communication technologies.
Narrated by Madison Leeves.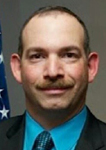 Ian Pleet is a veteran U.S. Navy Hospital Corpsman and has worked as a contractor in U.S. Northern Command (USNORTHCOM), U.S. Indo-Pacific Command (USINDOPACOM), and U.S. Central Command (CENTCOM). He is a Change Management Advanced Practitioner, FEMA Professional Continuity Practitioner, and Nationally Registered EMT.