By STEVEN P. BUCCI, An Article Out Loud from the Domestic Preparedness Journal Flashback, October 28, 2015.
There is no single solution to cybersecurity concerns. Technology is advancing, but this 2015 article reminds everyone that nothing can replace solid planning and training.
Narrated by Elisa DeLeon.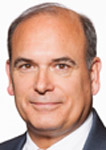 Steven P. Bucci, Ph.D., former Green Beret, is director of the Allison Center for Foreign Policy Studies at The Heritage Foundation. He also is an adjunct professor of leadership at George Mason University and an associate professor of terrorism studies and cyber security policy at Long Island University. He serves on the advisory board of the MIT Geospatial Data Center and is an advisor to the Prince of Wales/Prince Edward Fellowship program at MIT and Harvard. He previously served as a lead consultant to IBM on cyber security policy and as a special forces commander in the U.S. Army, where he assumed the duties of military assistant to Defense Secretary Donald H. Rumsfeld. After retiring from the Army in 2005, he served as deputy assistant secretary of defense for homeland defense and defense support to civil authorities at the Pentagon, and was the primary civilian overseer of U.S. Northern Command.