An Article Out Loud Flashback from the Domestic Preparedness Journal, April 01, 2015.
The 2013 Boston Marathon bombing case was memorable for many people – especially for the 16 people who lost limbs on that tragic day. This 2015 article reminds local and state agencies that, by law, every jurisdiction must have plans and partnerships in place to ensure that those with existing or newly acquired disabilities are properly cared for in any emergency. 
Narrated by MacGregor Stephenson.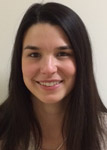 Kendall A. Leser, M.S., is a program analyst with the National Association of County and City Health Officials' Health and Disability and Public Health Law programs. She also is a Ph.D. candidate at The Ohio State University's College of Public Health, where she is finishing her doctoral dissertation research on the health of people with intellectual and developmental disabilities and their caregivers. She has nearly eight years of experience in the field of health and disability, where she has provided direct care support services to people with disabilities, as well as worked on various research and community projects related to promoting the health and wellbeing of people with disabilities.