An Article Out Loud from the Domestic Preparedness Journal. 
Emergency preparedness often involves preparing for a particular type of disaster. However, each disaster can affect people differently depending on their individual physical and mental abilities. This article helps emergency preparedness and response professionals address the needs of individuals with disabilities and access and functional needs and know how to respond respectfully and provide the best possible care. 
Narrated by MacGregor Stephenson.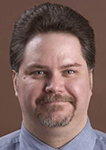 James Martin was the founder and executive director of the Maryland-based Accessible Resources for Independence (ARI), a 501(c)(3) organization that supports the disability community and, through a federal grant, also served as the Center for Independent Living for both Anne Arundel County and Howard County. In 1985, he was involved in an automobile collision that left him a functional quadriplegic and a member of the disability community. He served on the Commission for Disability Issues of Anne Arundel County as chair for the Legislative and Housing Committees. He also served as chairman of the Citizen Corps Council for Anne Arundel County and the City of Annapolis. As a member of and trainer for the Anne Arundel Community Emergency Response Team (CERT), he developed and taught a "Functional Needs" module for the local CERT training program and volunteered at the county emergency operations center, where he was a call-taker during snowstorms and hurricanes, including Irene and Sandy. He graduated from Anne Arundel Community College (AACC). He graduated in 1999 from the Architecture School of Mississippi State University with a Bachelor of Architecture degree. He later became an adjunct professor in the Architecture and Design Department at AACC.