By JAMES M. RUSH SR. , An Article Out Loud from the Domestic Preparedness Journal Flashback, February 13, 2008.
Public health and healthcare must determine their ability to respond to potential threats. This 2008 article explains how they can work together to identify gaps that, under current conditions, may not be met.
Narrated by Elisa DeLeon.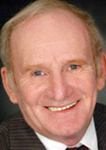 James M. Rush Sr. has over 45 years of healthcare administration and community emergency management experience in the U.S. armed forces, the U.S. public-health community, and the nation's civilian healthcare industry. He served as the Region III project officer for the National Bioterrorism Hospital Preparedness Program, and the CDC's National Pharmaceutical Stockpile, always dedicated to assisting healthcare and public health organizations prepare for "all hazards" events and incidents. He is author of, among other published works, the "Disaster Preparedness Manual for Healthcare Materials Management Professionals," and a self-published book "Unprepared."