An Article Out Loud from the Domestic Preparedness Journal, January 21, 2014. 
With more than 40 Olympic venues serving an estimated 14 million meals, the 2012 London Olympic Games were susceptible to many potential foodborne illnesses – both intentional and unintentional. However, through education, communications, surveillance, and a focus on surge capacity, London provided a model that could help protect the food supply at other mass gatherings around the world.
Narrated by Randy Vivian.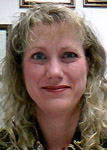 Michéle Samarya-Timm has an MA in Homeland Security and Defense from the United States Naval Postgraduate School and a BS and MA in Health Education from Montclair State University. A Masters Certified Health Education Specialist and New Jersey Health Officer, she has 20+ years as a registered environmental health specialist. Employed with the Somerset County Health Department (NJ) since 2009, she has extensive involvement in emergency preparedness and response, food safety and outbreak prevention, public health analysis and health communications. She is recipient of a Special Citation from the FDA Commissioner for her educational work to reduce foodborne illness in the United States, and also for her efforts in maximizing collaborative efforts between federal, state, and local regulators. Currently she is overseeing the implementation of an FDA-funded food defense program, and is completing a thesis exploring the impacts of intergovernmental communications on foodborne outbreak threats and response.