An Article Out Loud Flashback from the Domestic Preparedness Journal, August 10, 2005.  
For the last several years, fire agencies across the country have been actively preparing to handle incidents involving weapons of mass destruction (WMDs). The need for solid and reliable information traditionally accompanies those preparations – and, with the large number of credible and varied attack scenarios to consider, including radiation incidents, most of the nation's fire departments have found it difficult if not impossible to stay ahead of the equipment, information, and training curve.
Narrated by Randy Vivian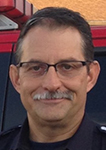 Rob Schnepp is division chief of special operations (ret.) for Alameda County (CA) Fire Department. His incident response career spans 30 years as a special operations fire chief, incident commander, consultant, and published author. He commanded numerous large-scale emergencies for the Alameda County (CA) Fire Department, protecting 500 square miles and two national laboratories in the East Bay of the San Francisco Bay Area. He twice planned and directed Red Command at Urban Shield, the largest Homeland Security exercise in the United States. He served on the curriculum development team and instructed Special Operations Program Management at the U.S. Fire Administration's National Fire Academy. He is the author of "Hazardous Materials: Awareness and Operations." He has developed risk assessment, incident management, and incident command training for Fortune 500 companies, foreign governments, and U.S. national laboratories.