An Article Out Loud Flashback from the Domestic Preparedness Journal, May 23, 2018. 
New York City has various disaster preparedness teams that are specially equipped to manage many types of threats. One such team involves canines trained to perform search and rescue tasks. Canines have helped save lives at critical times following disasters such as 9/11, when finding survivors among rubble and debris is especially challenging. A Dutch Shepherd named Diesel is one responder who currently works with New York City Police Department to prepare for the next disaster.
Narrated by Randy Vivian.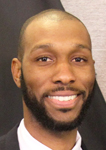 Omar Bourne is the deputy press secretary at the New York City Emergency Management Department. He has responded to various disasters and emergencies in New York City, including the East Village building collapse 2015, a number of winter storms, and preparations for Hurricanes Joaquin, Matthew, and Jose, and Tropical Storm Hermine. He recently deployed to assist in the response efforts in Puerto Rico. As deputy press secretary, he assists the press secretary in day-to-day press operations and serves as one of the agency's spokespersons, helping to develop and distribute information to the news media. He has spearheaded the creation of New York City's emergency management podcast "Prep Talk" and serves as a writer and co-host for the show. Prior to joining NYC Emergency Management, he worked as an assignment editor at Fox 5 News WNYW.