An Article Out Loud from the Domestic Preparedness Journal, November 09, 2022.
Many faith-based organizations have disaster response and recovery components as major elements of their own missions. By partnering with governmental and nongovernmental organizations, faith-based groups can coordinate locally to support response and restoration efforts, as well as provide mental health and spiritual care when resources are critically needed.
Narrated by MacGregor Stephenson.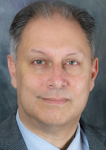 Michael Prasad is a Certified Emergency Manager and is the senior research analyst for Barton Dunant Emergency Management Consulting (www.bartondunant.com) and the executive director of the Center for Emergency Management Intelligence Research (www.cemir.org). He was formerly the assistant director for the Office of Emergency Management at the New Jersey State Department of Children and Families and the director of disaster support functions at the American Red Cross – New Jersey Region. He is also the chair of the Children and Disaster Caucus at the International Association of Emergency Managers – USA. He holds a Bachelor of Business Administration degree from Ohio University and a Master of Arts degree in Emergency and Disaster Management from American Public University. You may contact him at michael.prasad@bartondunant.com. Views expressed do not necessarily represent the official position of any of these organizations.