In the context of CBRNE (chemical, biological, radiological, nuclear, and explosive) incidents, radiation is differentiated from nuclear. Nuclear refers to an explosion precipitating a chain reaction, whereas radiation is and can remain a hazard long after a nuclear explosion – or a hazmat (hazardous materials) spill – even when there has been no actual explosion.
Radiation is in a sense double deadly, because it cannot be perceived by the human senses. Only the immediate damage resulting from radiation, in fact, can be sensed in the form of burns. The long-lasting risk of genetic damage and/or cancer is as imperceivable as the original radiation.
The first and most effective countermeasure against radiation exposure, such as that caused by a "dirty bomb," is of course avoidance. Advance intelligence, adherence to response policies, and common sense will keep most if not all responders out of Harm's Way. However, it is not always possible both to save lives and to ensure the desired safety of the responders themselves at the scene of a radiation incident. Because time is almost always a critical factor, the development and promulgation of accurate information – from the scene of an unfolding event – is therefore of paramount importance to saving the lives not only of those wounded or injured in the incident but also the responders themselves.
The first prerequisite for avoiding exposure is promptly recognizing that a radiation hazard does in fact exist. There are two main types of devices used to detect radiation: detection instruments; and dosimetry readers. Detecting the presence of radiation at an early stage of a response allows those on the scene to quickly recognize the hazard, thus giving all staff in decontamination areas time to check the effectiveness of their own working circumstances.
There is a second danger to consider, however – namely, that the effect of radiation is cumulative: the larger the dose and/or the longer the exposure, the greater the damage. Because the cumulative doses that can be tolerated by humans are already known, though, dosimetry allows responders to track their personal cumulative dosage so that they can exit the contaminated area prior to exceeding an unacceptable dose.
Precautions, Medications, and Stockpile Solutions If there is any possible risk of contamination, the wearing of standard PPE (personal protective equipment) is essential to survival. Both respiratory and skin protection are required in most situations, and are particularly important in the protection of any areas of the body where skin has been broken and thus more susceptible to infection.
A primary concern when working near a radioactive source is accidentally "internalizing" the toxic substance. In most cases, a person who has been working in a room where radioactive iodine-131 is present can simply walk out of the room if and when necessary. However, a person who has accidentally inhaled or ingested the iodine must receive immediate medical attention. Fortunately, there are a number of medical countermeasures that can be employed in the event of radiological exposure, whether by fallout from a nuclear detonation or because of other radioactive contamination.
Potassium Iodide tablets are often taken by those who are in or planning to enter an area believed to be potentially contaminated with radioactive iodine-131. Saturating the body with non-radioactive iodine eliminates the areas of skin available for radioactive iodine to seat; the Potassium Iodide therefore is or should be quickly excreted from the body, thus limiting the damage done by reducing the length of the toxic substance's exposure time.
After internal contamination with radioactive cesium-137, such as that released by Japan's Fukushima Daiichi Nuclear Power Station earlier this year, or by non-radioactive thallium, patients are sometimes given Prussian Blue capsules. Unlike the preventative nature of the non-radioactive Potassium Iodine tablets previously mentioned, Prussian Blue is given as a post-exposure way to drive the contamination from the body.
Potassium Iodine tablets and Prussian Blue capsules both can be obtained through the Strategic National Stockpile (SNS) of medications maintained by the U.S. Centers for Disease Control and Prevention (CDC). Radiation can be frightening because – unlike biological, chemical, or explosive hazards – there is no everyday counterpart to radiation hazards in the working world of the average citizen, or average responder. However, by taking the proper precautions, and ensuring that adequate medical countermeasures are on hand, the dangers caused by radiation hazards can be kept to a reasonably, and operationally, safe minimum.
____________
For additional information about:
General radiation, visit http://www.remm.nlm.gov/teppvideo.htm
Potassium Iodide, visit http://www.atsdr.cdc.gov/csem/csem.asp?csem=23&po=11
Prussian Blue, visit https://web.archive.org/web/20210716094224/http://www.bt.cdc.gov/radiation/prussianblue.asp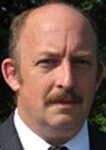 Joseph Cahill is the director of medicolegal investigations for the Massachusetts Office of the Chief Medical Examiner. He previously served as exercise and training coordinator for the Massachusetts Department of Public Health and as emergency planner in the Westchester County (N.Y.) Office of Emergency Management. He also served for five years as citywide advanced life support (ALS) coordinator for the FDNY – Bureau of EMS. Before that, he was the department's Division 6 ALS coordinator, covering the South Bronx and Harlem. He also served on the faculty of the Westchester County Community College's paramedic program and has been a frequent guest lecturer for the U.S. Secret Service, the FDNY EMS Academy, and Montefiore Hospital.