A peaceful protest can quickly turn to violence, as was seen recently in Ferguson, Missouri, and in Baltimore, Maryland. One industry-leading company applied lessons learned from its previous experiences with civil unrest to ensure the safety of its personnel and promote resilience within the thousands of communities it serves.
Walgreens leads the industry as the largest retail drugstore chain in the United States. Its recent acquisition of Alliance Boots makes it the worldwide leader in retail pharmacy. Lately, however, the company is fast becoming a leader in another area, disaster resilience, which it has accomplished out of necessity as it grows its business globally.
A Plan to Hire, Build & Adapt
In 2011 following the devastating tornado in Joplin, Missouri, Walgreens' senior leadership reached a watershed moment in its struggle to manage daily incidents and major disasters affecting 8,600 stores and facilities spread across 50 states, Puerto Rico, and the U.S. Virgin Islands. The company's leadership knew it had to do a better job of managing the daily incidents that occur, so Walgreens:
Hired a team of professional emergency and business continuity managers with expertise in federal, state, and public health disasters, as well as in issues related to the private sector;

Built and staffed its 24/7 Security Operations Center (SOC), which monitors fire and burglar alarms, weather, situational awareness, and social media; and

Adapted a scheme to escalate cascading events to the Emergency Management and Business Continuity team to handle large-scale emergencies.
Since implementing these changes, Walgreens has mounted successful responses to:
Hurricanes Irene in 2011 and Isaac in 2012;

Superstorm Sandy in 2012;

Colorado wildfires in 2012-2013;

Tornadoes in Moore, Oklahoma, in 2013, and Columbia, Mississippi, in 2014;

The 2013 Boston Marathon Bombing; and

Civil unrest in Chicago, Illinois, North Atlantic Treaty Organization [NATO] Summit in 2012; Ferguson, Missouri, in 2014; and Baltimore, Maryland, in 2015.
The company also responds daily to manage and coordinate robberies, burglaries, power outages, and myriad other local incidents that occur daily in most retail environments. Civil disturbances are fast becoming the new normal. To respond appropriately requires an even greater level of collaboration and planning because these are rapidly evolving events.
The company has made major strides over the past four years, partnering with public safety organizations such as the Federal Emergency Management Agency, Centers for Disease Control and Prevention, and National Emergency Managers Association at the federal level, as well as collaborating with state and county emergency management agencies in nearly every state. Development and tracking of over 70 separate emergency action plans for facilities, stores, corporate centers, and distribution centers are managed through a state-of-the-art business continuity system. Preparedness programs have been established for employees, and community initiatives include mass weather radio distribution and senior citizen preparedness outreach programs.
The company provides training for its asset managers, loss prevention, pharmacy operations, and support teams to help them better manage response and recovery operations. "Participation in joint public-private exercises with our counterparts has not only strengthened our experience, but has helped us create meaningful programs for preparedness and response," said Richard Dodd, Walgreens director of business continuity and occupational safety, in a recent Business Continuity Institute (BCI) article. The company has even developed its own emergency website, to provide preparedness and response information to its managers and employees. "As threats of both natural and man-made calamities continue to increase, we must continue to be vigilant in our efforts to protect our customers and employees, and to serve our customers with life-sustaining pharmaceuticals," Dodd said.
In 2014, Walgreens received the Department of Homeland Security Rick Rescorla Award for Resilience for their efforts in Hurricane Sandy recovery. In April 2015, Walgreens was awarded the Business Continuity Institute North America "Best Resilience Award" for its coordination during the Ferguson rioting.
The Ferguson Case Study – Experiences That Pay Dividends
On 10 August 2014, the day after police officer Darren Wilson shot and killed Michael Brown, protestors gathered in the streets of Ferguson, Missouri. The grand jury convened on 20 August, beginning the three-month process for local citizens and business owners to anxiously wait and wonder what would happen in the highly emotionally charged case. To prepare for potential civil disturbances, Walgreens developed contingency plans to address different scenarios. After the grand jury decided not to indict Wilson in November 2014, protestors took to the streets. When protests turned violent, Walgreens' resilience plans and use of technology helped to reduce property losses and reopen stores quickly to serve pharmacy and other healthcare needs to the community. Most importantly, Walgreens' efforts in partnership with public safety helped protect lives.
Emergency managers at Walgreens had seen civil disturbances before Ferguson, when antiwar protesters held mostly peaceful demonstrations leading up to the NATO Summit in Chicago, Illinois, in May 2012. When the Summit began, some of the protests turned violent, and 45 people were arrested on 20 May 2012. At the time, Walgreens had developed contingency plans for early warning, response, and recovery from any acts of vandalism directed at its stores within the downtown Chicago area. With plans and protocols in place, the process that Walgreens implemented for NATO involved using its available technology – including two-way radio communications, cellular phones, and increased security personnel. Although Walgreens' experience during NATO resulted in some minor property damage, the protests were mostly peaceful.
In 2014, public safety officials warned for months that the Ferguson verdict had the potential to lead to violence. Walgreens committed to being even better prepared than it was in 2012 for any outcome in Ferguson. In the years since NATO, the company had adapted a new intelligent communications platform. Additionally, coordination exercises conducted with state and local agencies jumpstarted response and gave Walgreens emergency planners the tools they needed to customize, streamline, and expedite warning, response, and recovery actions for the entire enterprise.
Preparing for Possible Escalation of Violence
The initial demonstrations were mostly peaceful, but by about 8:30 p.m. (following the verdict) things took a different tone when more than a dozen businesses were looted, including the local Walgreens. This incident and the mounting racial tensions between police and members of the community prompted Walgreens to begin updating its contingency plans in anticipation of a possible escalation of violence in Ferguson.
To begin its planning, Walgreens identified two markets in five districts, a total of 10 stores. The company created a series of separate emails to warn stores of possible disturbances, to notify store employees to be ready to evacuate immediately, and to instruct store employees to shut down the stores and close early. Next, Walgreens identified the recipients for the messages. It decided to include only key district and local staff in the communications. The flexibility afforded by the new technology, enabled Walgreens to keep local store staff well-informed of tactical operations on the ground, while using more-traditional means to communicate with corporate stakeholders and others following the events. While the grand jury heard testimony and deliberated, Walgreens worked closely with local law enforcement officials to share information and keep local stores up-to-date on the situation.
As the day of the grand jury's decision neared, Walgreens' emergency operations team conducted multiple calls each day with store managers in the highest-risk zone to keep everyone engaged and ensure plans were completely clear. They also held a preparation "walk-through" call, so all participants in the plan knew what to expect and could efficiently carry out actions if necessary.
Implementing a Plan
The verdict announcement came in the early evening of 25 November 2014, when St. Louis County Prosecutor Robert McCulloch announced the grand jury's decision not to indict Wilson in the death of Brown. As Walgreens' staff and the rest of the world watched, the crowds that had been gathering for several hours outside the Ferguson courthouse grew increasingly vocal. Some in the throng were expressing grief and disbelief, while others displayed outrage at what they felt was an unjust verdict. After quickly assessing the situation and the growing sentiment among the protesters, Walgreens officials made a decision to notify several stores nearest to the courthouse area to immediately cease operations and close for the evening. Other stores in the area remained open but were on alert.
Unlike the NATO Summit response, when calls to stores and key stakeholders required large numbers of operations staff to manage, notification calls could be carried out to about 200 people instantaneously. The ability to send an unlimited number of simultaneous messages meant the early closings could be carried out rapidly. This was extremely crucial because, within minutes of the verdict, protesters blocked Interstate 44, potentially cutting off routes home for some employees. Without the additional capability, if the alert instructions had been delayed even by a few minutes, Walgreens team members could potentially have been placed in harm's way.
Overnight, some people in the crowds set fire to at least five businesses and looted many others. The Ferguson Walgreens was set afire, as were other establishments in or near downtown. The large number of fires and the imminent danger posed to firefighters prevented the local fire department from attempting to put out some of the fires. Many properties were destroyed, and the Walgreens store suffered severe damage.
Despite property damage, planning played an important role in ensuring the safety of Walgreens employees. The Ferguson store, which was normally open 24-7 and had more than two-dozen employees, did not have any staff injuries. The ability to confirm receipt of the emergency messages was especially significant, because it allowed the company to keep track of employees who were either at work or scheduled to work.
Recovering in the Aftermath of Destruction
Ferguson's protests lasted for several days, making immediate damage assessment and resilience challenging. In the weeks that followed, fire and smoke damage caused numerous delays in re-building and reopening the Walgreens store. During recovery, emergency managers helped keep displaced employees informed about reconstruction progress and other important information related to the recovery effort.
News reports indicated that more than 14 people were injured in the initial reactions to the verdict in Ferguson. Because of the instantaneous communication and pinpoint planning, the Ferguson Walgreens store was vacated before the height of the disturbances, thus no employees or customers were injured. With quick action by Walgreens facilities and construction teams, the store was open for business again in late December 2014.
Lessons Learned From Ferguson Applied in Baltimore
In Baltimore, Maryland, the situation was quite different following the 12 April 2015 death of Freddie Gray while in police custody, but Walgreens' preparation worked efficiently. With several stores, coordination began during the initial aftermath of Gray's death. On 27 April 2015 (the day of the funeral), stores within the zone of anticipated demonstrations were immediately notified of the potential for threats, and early closing was arranged to ensure store employees had ample time to shut down systems and prepare. Store deliveries were suspended temporarily, and additional private security measures were put in place to thwart potential vandalism. Fortunately, Walgreens was able to recover from that rash of incidents with no injuries to its employees and, unlike Ferguson, no significant damage to its stores.
For more information about Walgreens emergency management programs, contact emergency.management@walgreens.com.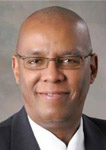 Vincent B. Davis, CEM, is Emergency Supply Solutions Consulting manager for Ready America, one of the nation's leading providers of disaster supplies. He joined Ready America in July 2016 following a stint as senior preparedness manager for Sony PlayStation. Before joining Sony, he was program manager of emergency preparedness and response for Walgreens Co. Following his career in the U.S. Air Force and Illinois National Guard, with 23 years in military public affairs, he served as: external affairs and community relations manager at the Federal Emergency Management Agency (FEMA); regional preparedness manager for the American Red Cross of Greater Chicago; and private sector consultant to the Illinois-Indiana-Wisconsin Regional Catastrophic Planning Team. He holds certifications as an Illinois Professional Emergency Manager and FEMA Professional Continuity Practitioner, and is a member of the International Association of Emergency Managers Children's Caucus and a lifetime member of the Black Emergency Managers Association. He authored, "Lost and Turned Out, A Guide to Preparing Underserved Communities for Disasters (Amazon 2012)," and the Native Emergency Communications Guidebook (Native Public Media) to be released in the spring of 2017 and founded PreparednessMatters.org Consulting. He also managing partner of PrepWorld LLC, creators of PrepBiz educational gaming APP for children.