Following a short hiatus, attention has recently focused anew on the development of security standards for rail transit, specifically in the areas of explosives detection, access/intrusion control, and video analytics. 
International interest in rail-transit security has been heightened by accounts of primarily home-grown terrorist attacks on rail systems in England, Spain, and India. The July 2005 London Underground suicide-bombings by British Islamic extremists killed 52 and injured 700; the terrorist weapons were Chapatti flour-hydrogen peroxide-mix bombs that had been put on the floors of trains and were detonated by booster charges.
This incident was preceded by the March 2004 commuter train bombings in Madrid, Spain. Those bombings were carried out by Islamic-inspired Moroccans Jamal Zougam and Othman el-Gnaoui, who coordinated and participated in an attack that killed 200 and injured 2,000. Their weapon of choice was seven dynamite-loaded duffel bags that had been placed on trains and were detonated with cell phones.
A more recent attack – the July 2006 train bombings of Mumbai's Suburban Railway that took the lives of 209 and injured 700 – was headed up by the Lashkar-e-Toiba and SIMI (Students Islamic Movement of India) Islamic fundamentalist groups, which used RDX and ammonium nitrate-mix bombs that had been put into pressure cookers on the trains.
In the development and implementation of transportation security standards, most homeland-security and national-defense attention and funds have been heavily invested to date in the development of security standards for air transit – understandably so, because the public to this day remains haunted by images of planes being used as weapons of mass destruction in the 11 September 2001 terrorist attacks on New York City and Washington, D.C. 
Millions of Commuters=Aneal Target 
The truth is, though, that millions of commuters both in the United States and elsewhere around the world use rail transportation on a daily basis; the number of passengers traveling by rail varies from year to year, of course, but has always been far greater than the number using air transportation. For that reason alone – a factor that has been fortified considerably by the railway incidents recounted above – it would seem evident that rail systems would be aneal target for terrorists bent on killing Americans (and the citizens of other Free World nations), creating havoc and confusion, and gaining worldwide publicity.
Fortunately, it seems likely that the incontrovertible need for improved rail-transit security will receive some additional attention in the very near future – more specifically, at an ANSI (American National Standards Institute) Transit Security Standards Workshop scheduled for January  27-28, 2009, in Arlington, Virginia. The mission of this group remains the same, as agreed to three years ago, and that is "to address the standards and conformity assessment needs for public transit security, encompassing urban, suburban, and regional commuter transportation by bus, rail, and the land side of urban ferry operations." 
Thanks in large part to the efforts of the institute's Homeland Security Standards Panel (HSSP), ANSI has already initiated and coordinated a series of other homeland-security standards development activities, and updates are available via ANSI's webpage or newsletters.  Results of the January transit security workshop will also be announced to stakeholders by ANSI in its typical and comprehensive fashion.  Not incidentally, it is worth pointing out that ANSI also organized and hosted the World Standards Cooperation (WSC) Workshop on Transit Security, and in February 2008 published the Workshop's "Final Report – Workshop on Transit Security Standardization," which provides a wealth of useful information for anyone interested in knowing more about the challenges and initiatives in this area.
Anyone interested in participating in some capacity in the standards development process for rail-transit security standards and/or seeking additional information about the ANSI-HSSP workshop should contact Colin Alter, co-leader of the workshop, at 301-460-0567, or alterc@comcast.net.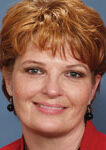 Diana Hopkins is the creator of the consulting firm "Solutions for Standards" (www.solutionsforstandards.com). She is a 12-year veteran of AOAC INTERNATIONAL and former senior director of AOAC Standards Development. Most of her work since the 2001 terrorist attacks has focused on standards development in the fields of homeland security and emergency management. In addition to being an advocate of ethics and quality in standards development, Hopkins is also a certified first responder and a recognized expert in technical administration, governance, and process development and improvement.