The use of facial recognition (FR) technologies to support public safety has long been considered a potent tool for law enforcement. The capability to automatically identify persons of interest in real-time has the potential to alert police of threats before an incident occurs. Long considered a technology of science fiction, FR is finally moving into the public safety mainstream with new capabilities now being rolled out.
Coupled with "big data" analytics, real-time FR could, for example, monitor the movement of known suspects at specific times and locations, which could then trigger an alert to law enforcement that a potential threat is underway. This includes a known suspect who has arrived at a sporting event or concert venue at an unusual time, or who may be loitering in a location that is potentially vulnerable to the public. The U.S. Customs and Border Protection Agency (CBP) and private sector organizations are finding more ways to leverage this expanding technology.
Protection in the Air
On 2 June 2017, the CBP announced the rollout of a FR biometric "exit" solution that monitors airline passengers who are leaving the United States en route to Dubai, United Arab Emirates, at Dulles International Airport, which is located near Washington, D.C. Based on the flight's manifest, CBP automatically creates a set of photos for each passenger from the passport picture as well as other sources, including photos taken during the passenger's entry into the United States. During the new exit process, a live photo is taken of each passenger and then immediately compared to the existing gallery of photos.
This comparison is designed to ensure that the passenger photographed is the legitimate owner of the travel documents, including the passport being used at that time. Any discrepancy found through the FR comparison would warrant intervention by CBP to confirm that the identity of the passenger matches the documentation. In the 2 June 2017 press release, Acting CBP Commissioner Kevin McAleenan stated that, "CBP has been working closely with airline and airport stakeholders to test biometric exit technology and as a result has developed a viable exit solution based on facial recognition," and that this process, "enhances our security while continuing to facilitate legitimate travel."
The use of FR technology will likely raise some privacy concerns for the travelling public. As part of its solution, CBP has integrated the capability to determine if the recognized individual is a U.S. passport holder and, if so, will automatically discard the photo, "after a short period of time." This may alleviate the fears of some travellers, though others may find the use of this technology unsettling.
As part of an effort to use FR to streamline the boarding process for travellers, the CBP has also partnered with JetBlue Airlines to begin testing a new "self-boarding" process that does not require the use of a physical boarding pass. Instead, passengers who opt in to use the new solution will have their photos taken and allow the FR system to confirm their identities and allow entry onto airplanes. Initially being rolled out in June 2017 on specific flights out of Boston's Logan International Airport, other similar airline-led pilot programs will be implemented in the coming months.
Protection on the Ground
Beyond the CBP pilot programs taking place today, other FR solutions are being implemented that take advantage of the power of cloud computing. For example, Amazon Web Services' (AWS) FR "Rekognition" offering is enabling law enforcement entities to leverage their own photo libraries to help identify criminal suspects. By utilizing the technical capabilities of AWS, even smaller agencies can have access to the robust computing power necessary to ensure accurate FR.
The Washington County (Oregon) Sheriff's Office is now using Rekognition in an attempt to match images of suspects to known criminals from their own mug shot photos. After copying all mug shots to the cloud-based program, sheriff deputies can quickly compare suspects to their new cloud-based repository using the computing power that AWS provides. To date, the solution has demonstrated impressive results.
"About 75% of the time, the person we're looking for is identified," said Chris Adzima, senior information systems analyst for the Washington County Sheriff's Office during a phone interview on 23 June 2017. Adzima noted that it took a few days to copy the 300,000 mug shots from the county system, but that the responses to inquiries takes only a few seconds. "It was very inexpensive to implement, and our approximately 20,000 calls to the system each month costs us only a few dollars," he continued.
Adzima added that the source images he receives are often not of good quality – for example, a smartphone picture of a still from a security camera taken off an old cathode ray tube (CRT) monitor. This often requires that he manipulate the image to ensure that the software performs as well as possible, and can include adding facial features to ensure that a nose or the eyes are properly recognized.
Although the advent of real-time FR of large crowds that are then instantly compared to millions of images may still be a ways off, significant strides are being done now to leverage the technology already in place, and at a very low cost. With these elements in place and coupled with talented young technical professionals currently in the public safety space, the future will arrive sooner than anyone may think.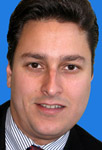 Rodrigo (Roddy) Moscoso is the executive director of the Capital Wireless Information Net (CapWIN) Program at the University of Maryland, which provides software and mission-critical data access services to first responders in and across dozens of jurisdictions, disciplines, and levels of government. Formerly with IBM Business Consulting Services, he has more than 20 years of experience supporting large-scale implementation projects for information technology, and extensive experience in several related fields such as change management, business process reengineering, human resources, and communications.