An Article Out Loud Flashback from the Domestic Preparedness Journal, November 11, 2014.
In the nation's capital, emergency managers identify hazards, consider location-specific elements, and implement lessons learned from past incidents in order to create a robust preparedness plan for critical infrastructures, including power and water. Efforts in neighboring jurisdictions and private sector cooperation also contribute to the regional resilience of the power grid.
Narrated by Randy Vivian.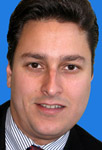 Rodrigo (Roddy) Moscoso is the executive director of the Capital Wireless Information Net (CapWIN) Program at the University of Maryland, which provides software and mission-critical data access services to first responders in and across dozens of jurisdictions, disciplines, and levels of government. Formerly with IBM Business Consulting Services, he has more than 20 years of experience supporting large-scale implementation projects for information technology, and extensive experience in several related fields such as change management, business process reengineering, human resources, and communications.