An Article Out Loud Flashback from the Domestic Preparedness Journal, August 22, 2007.
Since this article was written in 2007, major developments have been made to bridge the communication gap for emergency response agencies. However, in times of crisis, the communications between neighboring jurisdictions can still be problematic. Advanced technology has solved the problems and confusion for some jurisdictions, while creating new costly problems for others. This article highlights the interoperability struggle that agencies have faced and some are still trying to overcome today.
Narrated by Randy Vivian.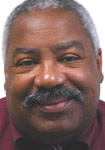 Gary Simpson retired as a 32-year veteran with the Annapolis Police Department (Maryland). When he retired, he was hired back as the Emergency Management Director for the City of Annapolis. Two years later, he shifted back to the police side as Director of Domestic Preparedness. While with the Annapolis Police Department, he rose to the rank of Captain. He has served in CID, the Arson & Explosives Unit, Public Affairs Unit, Patrol Operations, Special Operation, SWAT, White Collar/Fraud Crimes Unit, and Communications Unit. His current mission includes anti-terrorism planning, technology management, and intelligence operations for the police department.