An Article Out Loud Flashback from the Domestic Preparedness Journal, May 08, 2013.
Understanding the different facets of tornado preparedness planning helps responders address questions related to these often costly and sometimes deadly incidents. A comprehensive approach for gathering and disseminating information, educating and training response personnel, and creating and updating a strategic plan could help reduce fatalities, damages, and recovery time when the next funnel cloud forms.
Narrated by Randy Vivian.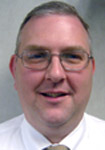 Scott Fitzsimmons is an adjunct faculty member at Tiffin University, where he instructs courses on criminal justice, emergency management, and weapons of mass destruction. He has spent 19 years in the fire, emergency medical services, and law enforcement communities – and over the past 10 years has focused special attention on homeland security issues through research, training, planning, and operational deployments. He previously worked for the Department of Homeland Security's Federal Emergency Management Agency (FEMA) and with the Department of Health and Human Services – in the capacity of both response and training at FEMA's National Training Center in Anniston, Alabama.