Click to download the full report, Support to Local Authorities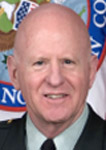 When a quarterback calls a huddle, everybody on the field is in that huddle. The same is true for emergency planners, responders, and receivers. Even the best athletes do not always get it right but, unlike a football game, emergency incidents have many serious and often life-threatening implications – law enforcement, medical, infrastructure, health, agricultural, business, economic, and political. Emergency planners, responders, and receivers must be able to bring all the players to the field for regular practices in order to work as a cohesive unit on "game day."
The team members must establish good working relationships with each other well in advance of any real-life disaster scenario. By building relationships early, the players will know what resources – personnel and supplies – are available from neighboring jurisdictions. They also will have time to determine who will be in charge and what position each person or agency will play. A common operating picture also is critical for the successful outcome of any incident.
The survey results outlined in this report highlight the need to do more to improve collaboration, planning efforts, recognition of underutilized resources, information sharing, and general preparedness for any potential natural or manmade incident. Disasters often touch everyone within an affected jurisdiction. However, as seen on 9/11 and following many other disasters over the years, they also affect many people outside the immediate impact area and even around the world.
The National Guard's Civil Support Teams and the Federal Bureau of Investigation's fusion centers are two ways the federal government can support the nation's local jurisdictions when the local authorities are overwhelmed. Unfortunately, according to the DomPrep survey, these two resources seemto be underutilized at the local level. This poses a challenge to the state and federal agencies to get more information about such resources to the local jurisdictions. It also poses a challenge to the local jurisdictions to actively explore all of the resources available to them.
Everyone has a place on the team, but each player must come prepared, trained, and ready to go when time is critical. The collective efforts of the team members will determine the outcome of the game and the amount of time it will take to recover from any game-day injuries.