Click to download the full report, Planned Special Events
Every day across the United States, special events – both large and small – are planned and executed. Large-scale special events involving thousands of participants require special attention and coordination at all levels of government – local, state, and national. To address the topic of planned special events,DomesticPreparedness.com hosted an Executive Briefing at the Washington Nationals Park in Washington, D.C., on 16 July 2012.
Hosting the DomPrep Executive Briefing at a venue that is home to special events 365 days a year provided an excellent backdrop. The diversity of attendees – local, state, and national representatives from both the public and private sectors – represented how a successful event should be planned. A whole community approach involves all stakeholders at all stages of the planning process.
No one level of government or jurisdiction has the capabilities and capacity needed for most special events. As such, collaborative efforts and communication are necessary for putting all the pieces of the puzzle together – some bring tools, some bring expertise, and some bring people.
Planning each event should begin withentifying potential risks – the knowns and the unknowns, the vulnerabilities and the gaps. Then it is important to ensure that the right people with the right credentials are included. Volunteers play an important role in many special events, but they must be effectively managed to avoid hindering the efforts. Following predetermined standards and proper training ahead of time will help coordinate efforts within and between jurisdictions. Building relationships with the surrounding jurisdictions is paramount because moving thousands of people into and out of a venue affects much more than the venue itself. Finally, communicating with the public can be a challenge  –  the message itself and who delivers it are everything.
This analysis reflects the opinions of DomPrep Executive Briefing attendees and responses of DomPrep readers from the most recent DomPrep survey on planned special events. This collaborative effort offers useful information for planning future events. Such planning efforts may not be great right now, but they are better than they were ten years ago and will be even better ten years from now if planners and operations personnel build on the past lessons learned, the relationships formed, and the communications established.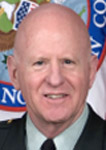 Lieutenant General H. Steven Blum, USA (Ret.), former Deputy Commander, United States Northern Command, was the first National Guard* officer to serve as a Deputy U.S. Combatant Commander. His previous assignment was as Chief of the National Guard Bureau. In that post, he served as the principal adviser to the Secretary and Chief of Staff of the Army, and to the Secretary and Chief of Staff of the Air Force, on all National Guard issues. Prior to commanding the 29th Infantry Division (Light), General Blum served as Assistant Adjutant General for the Army, as Commanding General, Maryland Army National Guard, and as assistant Division Commander (Support), 29th Infantry Division (Light). He also previously served as the Commanding General for the Multinational Division (North) Stabilization Force 10 in Operation Joint Forge, Bosnia Herzegovina.