When one peanut has the ability to kill, it is necessary to examine the practices and procedures used in public yet confined spaces such as emergency shelters. By following simple steps, emergency managers are able to perform shelter operations while limiting exposure to allergens and contaminants that could turn a safe haven into an exposure risk. 
As many as 15 million people in the United States have a food allergy, including nearly 1 out of 13 children under the age of 18. This represents approximately 2 percent of adults and 5 percent of children in the United States. According to a study released in 2013 by the Centers for Disease Control and Prevention, food allergies in children increased approximately 18 percent between 1997 and 2007. Odds are that, during a large-scale emergency, people with food allergies will show up at shelters. In 2006, about 88 percent of schools had one or more students with a food allergy, which can range in severity, from mild to downright deadly. The U.S. Food and Drug Administration (FDA) estimates that anaphylactic food reactions cause approximately 30,000 emergency room visits, 2,000 hospitalizations, and 150 deaths per year.
Given the severity of some food allergy reactions, it is certainly important to develop and implement strategies designed to limit exposures to allergens and contaminants. When examining the food allergy spectrum, more than 160 foods can cause food allergies. However, eight major food allergens – milk, eggs, peanuts, tree nuts, soy, wheat, fish, and shellfish – account for 90 percent of all food-related reactions. These eight food allergens are the focus of the Food Allergen Labeling and Consumer Protection Act of 2004, which requires food manufacturers to list the ingredients of prepared foods and disclose whether their products contain any of these top allergens.
Simple Steps to Reduce Food Allergy Emergencies in Shelters
No cure for food allergies currently exists, so treatments can only ease the symptoms of a food-induced allergic reaction. As a result, prevention is the best strategy. When preparing food at a shelter, good hygiene and cleanliness practices are essential. Food preparation, handling, and serving techniques are important, as even trace amounts of an allergen can cause a reaction. Ensuring hands are washed and surfaces are routinely cleaned can remove most allergens from the environment.
Likewise, shelters planning to serve meals ready to eat (MREs) should be prepared to answer questions about ingredients and allergies. This is especially true in shelters where MREs are the only meal option. Since MREs were first introduced for U.S. military use in 1981, they have undergone a series of changes, including adding ingredient and nutritional information to the packaging. MREs are a common choice to feed large groups during emergencies, since they have a long shelf life and are relatively easy to store.
According to the popular World Grocer website, there are currently about 24 MRE meal menus available, of which 20 contain meat products, 2 are vegetarian, and 2 are vegan. Different manufacturers can produce these meal menus, which means the actual ingredients may vary depending on the manufacturer. Therefore, it is highly recommended that people with food allergies read the ingredient and allergen statements for each ration component before consumption. The labels on all rations meet the requirements put forth by the Food Allergen Labeling and Consumer Protection Act of 2004.
Food Allergy Accommodations Under the Americans With Disability Act 
People with food allergies may require special preparations for their meals. However, these special preparations are different than accommodations required under the Americans with Disabilities Act (ADA). Although lawsuits seeking protection for food allergies under the ADA have been filed, courts have thus far been reluctant to extend ADA provisions to persons with food allergies. A disability under the ADA requires a person to have a physical or mental impairment that substantially limits one or more major life activities.
Since a food allergy only manifests itself during specific times and the exposure can be managed by limiting access to the allergens, courts have found that it does not substantially limit major life activities (Land v. Baptist Medical Center, 164 F.3d 423 [1999]). Similar findings have been made for people suffering from asthma and panic attacks (Zirpel v. Toshiba America Information Systems Inc., 111 F3d 80 [1997]; Robinson v. Global Marine Drilling Co., 101 F3d 35 [1996]). However, shelter operators must adjust their kitchen policies in order to meet the food and beverage needs of residents and volunteers who have disability-related concerns, such as diabetics.
Putting It All Together – What It Means for Emergency Management
Emergency management officials are faced with an enormous task and tremendous responsibility. In addition to responding to the situation that created the need for sheltering operations, they are also charged with ensuring shelter operations are safe, accessible, and accommodating. Prolonged shelter operations necessitate the need for providing food service to those who have been displaced. Shelter plans should include guidelines for safety and sanitation procedures, especially for food preparation, service, and storage.
Appreciating that emergency shelters may be accommodating many people within a confined space, and possibly for a prolonged time adds complexity to food service issues. Staff should be trained to recognize the signs and symptoms of a food allergy incident: tingling, burning, swelling, and itching of the tongue and/or throat can be signs that a person is experiencing an allergic reaction.
Emergency planners and shelter workers are encouraged to familiarize themselves with the Voluntary Guidelines for Managing Food Allergies in Schools and Early Care and Education Centers, which were developed by a multidisciplinary group of stakeholders and federal agencies, including the U.S. Department of Education and the Centers for Disease Control and Prevention. These guidelines cover a wide variety of topics that can be applied to emergency shelters, such as strategies for reducing allergic reactions and responding to life-threatening reactions.
Given the myriad of responsibilities, it is easy to surmise that many jurisdictions have not recently examined their shelter policies and procedures with a specific eye toward preventing food allergy incidents. Local environmental or health departments likely have food inspectors that can serve as a resource. The emergency necessitating the need for sheltering operations is enough to deal with, without worrying about someone having a severe allergic reaction onsite.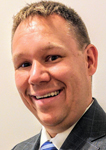 Andrew Roszak, JD, MPA, EMT-P, serves as the executive director for the Institute for Childhood Preparedness and as an advisor for the Domestic Preparedness Journal. He is the author of the Preparing for the Unexpected Series of books, which includes "Preschool Preparedness for an Active Shooter." He has spent over 20 years working on emergency preparedness, response, and recovery issues. He is admitted to the Illinois and District of Columbia Bars and is admitted to the Bar of the U.S. Supreme Court. Find him on Twitter: @AndyRoszak.