DomPrep's John Morton met with General Dennis J. Reimer, USA (Ret.), President, Government Services, DFI International
The former Army chief of staff, who also served as the first director of the Oklahoma City National Memorial Institute for the Prevention of Terrorism (MIPT), addresses information and intelligence sharing and the Pentagon's military support strategy as it has been revised and refined in light of the lessons learned from Hurricane Katrina.
DomPrep has divided the 37 minute interview into three segments.
Listen to Audio Segment OneLLIS.gov and Information Sharing
The MIPT's Lessons Learned Information Sharing network LLIS.gov. How this national system for information sharing, initially focused on emergency responders and WMD consequence management, is now expanding to include the private sector and to address issues as agro-terrorism and the impact of all-hazards lessons learned from disasters such as Hurricane Katrina. Reimer's thoughts on all-source intelligence sharing.
Duration: 14 Minutes 30 Seconds
Listen to Audio Segment Two The Pentagon's Military Support Strategy
In light of 9/11, the Pentagon emphasis on planning for worst-case terrorist scenarios – i.e., multiple simultaneous attacks involving mass casualties. The current Quadrennial Defense Review (QDR) and the future composition of rapid-reaction forces composed of Army, Marine, and/or National Guard units to assist civil authorities. Civil Support Teams (CSTs) and their potential for providing "communications bridges."
Duration: 14 Minutes 35 Seconds
Listen to Audio Segment Three Military Support Post-Katrina
General Reimer's views on the "constabulary force" concept for task forces composed of intel, civil affairs, engineering, military police, logistics, and medical support units. Identifying medical surge capabilities and addressing shortfalls using military medical support and volunteers drawn from the retired military and private-sector medical communities.
Duration: 8 Minutes 37 Seconds
General Dennis J. Reimer, USA (Ret.) assumed his position as President of DFI Government Services on September 1, 2005. In this role, he is responsible for the strategic direction, business development, and overall management of DFI Government Services, a Washington, DC based research, analysis and consulting firm that supports the federal government on a range of homeland security, defense, and intelligence issues and programs.
Before joining DFI, General Reimer served as the first Director of the National Memorial Institute for the Prevention of Terrorism in Oklahoma City from April 2000 to May 2005. The Institute is dedicated to preventing, reducing and mitigating the effects of terrorism and has developed a number of national programs to include Lessons Learned Information System (LLIS), The Terrorism Knowledge Base (TKB) and the Responder Knowledge Base (RKB) that assist emergency responders nation wide during his tenure. Prior to that, General Reimer served 37 years in the U. S. Army, retiring on August 1, 1999.
General Reimer became the 33rd Chief of Staff of the U.S. Army on June 20, 1995. During his career, he served in a variety of command and staff positions. He was the commanding General 4th Infantry Division at Fort Carson, Colorado; Deputy Chief of Staff for Operations, U.S. Army during Operation Desert Storm; Vice Chief of Staff U.S. Army, Operation and Commanding General U.S. Army Forces Command in Atlanta, Georgia. He served two tours in Vietnam and one in Europe.
General Reimer was born on July 12, 1939 and grew up in Medford, Oklahoma. He is a 1962 Graduate of the U.S. Military Academy in West Point, New York and holds a Masters degree in Public Administration from Shippensburg State College in Pennsylvania.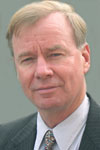 John F. Morton is the Strategic Advisor for DomPrep. He is also the Homeland Security Team Lead for the Project on National Security Reform (PNSR). A member of the DomPrep team since its founding, he has served as managing editor for writer assignments and interviewer for scores of DomPrep audio interviews.