On June 30, 2005, DomPrep's John F. Morton met with Governor James S. Gilmore III, former chairman of the Congressional Advisory Panel to Assess Domestic Response Capabilities for Terrorism involving Weapons of Mass Destruction, the Gilmore Commission.In his interview, the former Virginia governor speaks of the DHS need to increase the Federal government's coordination with cities, states and the private sector, emphasizing prevention and the role of intelligence. The Governor also shares his views on vulnerability assessments, prioritizing/incentivizing critical infrastructure protection, best practices in risk management, HSPD-8 and terrorism insurance. He concludes with a discussion on his current focus: border protection and medical surge capacity.
DomPrep.com divided the 34 minute, 07 second interview into four segments.
Listen to Audio Segment One Homeland Security Strategy and Prevention
A discussion on the impact of the Gilmore Commission, with the government's adoption of 146 of the Commission's 164 recommendations. Federal coordination with cities, states and the private sector. Homeland security strategy in terms of prevention and response with the emphasis on prevention, the role of intelligence and prioritizing threat assessments.
Duration :9 Minutes 15 Seconds
Listen to Audio Segment Two Critical Infrastructure Protection and Response
Vulnerability assessments and prioritizing critical infrastructure protection. Best practices in risk management. Standards setting. Building response capabilities on the FEMA model of co-locating Federal players with State authorities.
Duration :4 Minutes 55 Seconds
Listen to Audio Segment Three HSPD-8 and the National Preparedness Goal
Private sector investment and physical security hardening. The importance of in-place management systems, communication between the private sector and first responders and planning. Insurance and liability issues.
Duration :9 Minutes 14 Seconds
Listen to Audio Segment Four Border Protection and Medical Surge Capacity
Meeting the shortfalls in medical surge capacity using on-call systems, private organizations and retired health/medical workers. The importance of public communications, balancing civil liberties and developing a strategy for economic reconstitution in the event of an attack.
Duration: 11 Minutes 23 Seconds
James S. Gilmore III was the governor of Virginia when the Pentagon was attacked on 11 September 2001. His appointment, as a former Army counterintelligence agent, to chair (from 1999 to 2003) what became known as the Congressional "Gilmore Commission" was widely praised by members of both major parties. As of the end of June, 146 of the Gilmore Commission's 164 recommendations had been approved by Congress and/or implemented by the executive branch of government.
Gilmore now serves as chairman of the National Council on Readiness and Preparedness, a nonprofit first-responder grassroots organization created to strengthen U.S. homeland security and provide forums to develop a national homeland-defense strategy that incorporates the views and concerns of local governments and the private sector. Gilmore also is a partner at the Washington office of Kelley, Drye & Warren LLP, where he chairs the Homeland Security Practice Group, and is president of USASecure, a nonprofit homeland-security policy institute focused on biodefense and border security).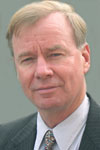 John F. Morton is the Strategic Advisor for DomPrep. He is also the Homeland Security Team Lead for the Project on National Security Reform (PNSR). A member of the DomPrep team since its founding, he has served as managing editor for writer assignments and interviewer for scores of DomPrep audio interviews.