On 15 April 2015, a 61-year-old mailman from Florida breached restricted airspace over the nation's capital and landed a gyrocopter on the West lawn of the U.S. Capitol building. Although this event did not involve explosives or other hazardous materials, the next incident may not be benign. Communication gaps must be closed.
On 29 April 2015, the House Committee on Oversight and Government Reform held a public hearing concerning the events surrounding the 15 April incident involving Douglas Hughes landing a gyrocopter on the Capitol grounds. During the open session, Committee Chairman Rep. Jason Chaffetz (R-Utah) grilled representatives from the Federal Aviation Administration (FAA), U.S. Capitol Police, Secret Service, and North American Aerospace Defense Command (NORAD) on the apparent failure across the government's airspace security apparatus to either detect or intercept Hughes and his gyrocopter as he travelled from Gettysburg, Pennsylvania, to the West Lawn of the Capitol building.
Technological Capabilities & Inabilities
Previous reports following the closed-door session held for members of Congress a week earlier suggested that NORAD and other agencies had Hughes' gyrocopter "in their sights," but elected not to shoot him down due to fear that doing so might jeopardize public safety. However, at the open hearing on 29 April, agencies testified that this was not the case, and that no weapons were actually drawn on Hughes until the very moment he landed on the Capitol grounds. NORAD Commander Admiral William Gortney acknowledged that NORAD and the FAA currently do not have the ability to distinguish small targets (such as Hughes and his gyrocopter) from a large bird on radar. He added that new technologies currently are being tested that should enable NORAD and the FAA to identify targets as small as a gyrocopter, including even small drones. Gortney offered to provide the committee with additional details on the capabilities of the new system in a future closed-door session.
In the days immediately following Hughes' landing, some pundits and even the media suggested that Hughes did not necessarily pose a significant threat to the Capitol or to other D.C. structures due to the small footprint of the gyrocopter itself. In fact, the USA Today editorial board published an article on 17 April 2015 downplaying the potential damage that a 250-pound gyrocopter could do to any building, noting that, "It would bounce off a structure as robust as the U.S. Capitol or the White House," resulting in minimal damage.
However, during the 29 April hearing, Rep. John Mica (R-NY) noted that Hughes' gyrocopter was capable of carrying 50 or more pounds of cargo. Mica asked Secret Service Director Joseph Clancy what damage 50 pounds of plastic explosive could do to the Capitol building had Hughes chosen a strike on the Capitol building itself. Clancy replied that, "It would be devastating." Mica also noted the failure of the Capitol Police to notify House members and staff via its congressional alert system that Hughes had landed on the West Lawn. In fact, he noted that he and his staff only received notification of the incident, by regular email, from the Capitol Police at 5:02 p.m. adding, "We never heard a thing" until that time, calling it, "another horrible communications failure of the system."
Other Communication Gaps
Beyond the current technical limitations of not being able to monitor a very small aircraft on radar, which kept NORAD, the FAA, and the Secret Service in the dark about Hughes' travels, there were other significant communications failures that negated the possibility for a coordinated response prior to his landing at the Capitol. During the open hearing, Capitol Police Chief Kim Dine stated that a Tampa Bay Times reporter had sent an email to the Capitol Police at 12:59 p.m. (24 minutes before Hughes landed) asking if the Capitol Police were aware that a "local man" was planning to fly a gyrocopter to the Capitol as part of a protest. The email did not specify a time or date of the flight itself. However, the email contained a link to a live Internet feed that Hughes had set up to share his trip with the public.
One minute later, the same reporter called the Capitol Police dispatch center to ask if the Capitol Police had authorized Hughes' flight and landing on the West Lawn. The reporter referred to Hughes by name when he made his second call to the Capitol Police dispatch center. The reporter had first contacted the Secret Service, which referred him to the Capitol Police. At 1:07 p.m., the Tampa Bay Times email was forwarded to a Capitol Police investigative division while, at the same time, a Capitol Police Command Center sergeant attempted to view the feed via the provided link without success. Hughes' live stream had stopped prior to this time, though it had been operational for approximately half of his trip from Gettysburg.
Although the Times reporter may not have been explicit about the timing of Hughes' stunt, he nonetheless made multiple attempts to alert both the Capitol Police and the Secret Service over a short period of time, strongly suggesting that the event was imminent. Most significantly, the reporter provided a link to a live feed, which should have indicated to officials that the event was occurring at that very moment.
Connecting the Dots – Before Time Runs Out
At the open hearing, members of Congress seemed incredulous that Hughes' protest flight had been successful given the information provided by the Tampa Bay Times that day. Moreover, Hughes was no stranger to the Secret Service, which had interviewed Hughes in October 2013 after obtaining information that Hughes intended to fly a single-engine aircraft to the Capitol. Clancy noted that, following this interview, the Secret Service determined that Hughes did not pose a threat to areas under its protection, but the agency nonetheless had shared information about Hughes with other law enforcement agencies following the 2013 interview. This led to questions from members on how Hughes, having been previously known to the Secret Service, could have been such a surprise when the Tampa Bay Times provided his name to them more then 20 minutes before he landed.
Chaffetz asked the panel, "Do you all not monitor social media? Is Twitter a new thing for ya? This stuff is out there. Try Google alerts." These comments and questions underscore how near real-time communication channels such as Twitter and Facebook, coupled with robust data sharing and information access, could be leveraged during rapidly developing events. Theoretically, when the Capitol Police were provided with Hughes' name at 1:00 p.m. by the reporter, agency personnel would have searched and found a record of the October 2013 interview, connected the dots, put two and two together, and realized that Hughes was indeed attempting to fly and land at the Capitol at that time.
In this scenario, the Capitol Police would have alerted its partner agencies, including the FAA and NORAD, which may have had time to intercept Hughes in flight – Hughes himself expected that this was a likely possibility. However, this scenario is dependent on human resources being able to quickly coordinate and collaborate with partner agencies around a common set of data. Although great strides have been made in connecting various command and watch centers across agencies and disciplines since the terrorist attacks of 9/11, including the creation of the FAA's Domestic Events Network (DEN), which shares information with more than 130 agencies in real time, Hughes' success demonstrates that technology is not a panacea.
Had agents with the Secret Service, NORAD, FAA, Capitol Police, and United States Park Police all been in the same room together when the first email and call came in, the above scenario may have played out differently, with Hughes and his gyrocopter ending up in the Potomac River along with his letters. Of course, the next time it may not be letters. More importantly, no such room exists that contains the range of agencies and skills currently charged with monitoring and responding to threats to the nation's capital. But maybe it should.
What to Do – An Insider's Perspective
Retired United States Park Police Major David Mulholland believes that the best way to deal with a rapidly developing threat is to ensure that "the right people are in the same room together," according to a personal interview on 23 April 2015. In his 20+ years managing and supporting events in and around the National Mall in Washington, D.C., Mulholland stood up dozens of joint operations centers, which included representatives from local, state, and federal agencies, and represented a wide range of disciplines, which included traditional law enforcement, transportation, fire, emergency medical services, building management, and meteorology. "They must be in the same room together, and with access to their agency's information and datasets, as well as to their own people and resources. This allows everyone to collaborate in real-time and to share their perspectives and, when necessary, engage their people in a truly collaborative fashion across the group," Mulholland said.
He noted that establishing and maintaining a joint operations center like this 24/7 is logistically difficult and expensive, but that it also is the best way to leverage the talent and resources of the myriad agencies already charged with an operational role in protecting the nation's capital. "Nobody was thinking and planning for how to handle someone flying a gyrocopter to the Capitol, but you better believe that they are now," Mulholland said. "And it's the unknown threat that we must be instantly ready to respond to. For example, what about someone coming up the Potomac in a small submarine? It could be an entirely new threat, and we'll need every agency participating instantly on coordinating the best response. And you can only do that by being together in a physical space designed just for that purpose – it won't happen via telcon [telephone conversation] or video call," Mulholland continued.
Technology provides real-time access to information in nearly every conceivable way, even on new smartwatches. However, the alert one receives is only as accurate (and timely) as the people who are sending it. Hughes' gyrocopter incident has provided the response community with an opportunity to consider how this event could have been handled differently, by whom, and from what location. If the group that testified on 29 April discusses these questions around the same table, they may find that keeping the dialogue going, in the same location, could be a good start.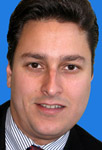 Rodrigo (Roddy) Moscoso is the executive director of the Capital Wireless Information Net (CapWIN) Program at the University of Maryland, which provides software and mission-critical data access services to first responders in and across dozens of jurisdictions, disciplines, and levels of government. Formerly with IBM Business Consulting Services, he has more than 20 years of experience supporting large-scale implementation projects for information technology, and extensive experience in several related fields such as change management, business process reengineering, human resources, and communications.