Long known for its highly specialized hands-on training es for emergency response personnel, the Federal Emergency Management Agency's (FEMA) Center for Domestic Preparedness (CDP) recently combined three courses, and 108 responders, into what is called an Integrated Capstone Event (ICE). This exercise gave students from multiple disciplines a unique opportunity to experience the full impact – i.e., not focused primarily, or exclusively, on their own professional specialties – of a mass-casualty incident.
Typically, each CDP culminates with an end-of-course scenario specific to the individual professional objectives learned during the training, and many facets of the exercise are notional. The ICE, however, eliminates much of this artificiality, and provides a much more realistic scenario for the students to perform their own skills and use their CDP training to maximum advantage.
"Integrating multiple courses into a combined event is extremely important because it replicates what will happen in an actual community," said Charles Medley, Chief of the CDP's Training Delivery Branch. "During a mass-casualty event, every element of emergency response will engage. Emergency responders need to learn to integrate now, and the CDP is committed to providing the training environment where they can learn to do that."
Collective, Simulated, Realistic: "Amazing!" The ICE scenario combined students from the Emergency Medical Operations (EMO), Hazardous Materials Technician (HT), and Hospital Emergency Response Training (HERT) courses, who collectively handled field and hospital operations in response to a simulated explosion at a nearby college.
"This [training event] gives you anea of what is going to happen and how the different units are going to
 work together," said John Combs, a police officer from Fayetteville, North Carolina. "As a first responder, this gives me anea of how the fire service, hazardous materials, EMS, and healthcare [professionals] work. As a police officer I normally do not … [have the opportunity] to take part in this kind of training – this is a good training day for me."
"I feel we need to practice like this all across the country to prepare ourselves for any kind of emergency or disaster," added Trudy Mueller, an emergency room nurse from Conneaut, Ohio. "This training helps us work together and understand … [each other's] strengths and weaknesses. It is important to train with all the groups together, not just a single group."
"Combining the EMO , hazardous materials – as well as the hospital emergency response course – is amazing," said Ryan Sell, a firefighter/paramedic from Iolla, Kansas. "We had groups involved from the inception of the incident, through each stage."
Future ICEs, which will be scheduled at least once each quarter at the CDP, will usually combine three or more courses in a wide variety of response operations. The Event recently completed "was our second ICE, and we continue to find things that we can fine-tune and improve for future Integrated Capstone Events," said Medley. "We have alreadyentified a number of steps we can take to enhance the scenario, manage our role players, and improve logistics."
Copyright © 2012 FEMA's Center for Domestic Preparedness. Reprinted with permission.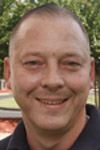 Shannon Arledge is a public affairs specialist at the FEMA Center for Domestic Preparedness in Anniston, Alabama. A retired Marine gunnery sergeant, he served in numerous public affairs/public information assignments during his 20 years on active duty, including tours of duty at Headquarters Marine Corps, the Defense Information School, and Marine Barracks Washington. He deployed twice to the Persian Gulf – in support of Operations Enduring Freedom and Iraqi Freedom – as Public Affairs Chief for Marine Forces U.S. Central Command (Forward) and Public Affairs Chief for the 2nd Marine Aircraft Wing. A graduate of the Defense Information School for Public Affairs and Visual Information, he also has a Bachelor of Science degree in Management from the University of Phoenix.