In 2011, 14.9 percent of U.S. households (17.9 million households) were "food insecure," according to the U.S. Department of Agriculture's study, Household Food Security in the United States in 2011. Those numbers equate to slightly more than 50 million Americans living in food-insecure households: 33.5 million adults and almost 17 million children. Many of the families queried in the study rely on food provided by various charities to feed themselves. Unfortunately, the nation's charitable food supply chain itself is one of the most complex nutrition delivery systems in the entire world.
These "supply chains of giving" are often the primary source of sustenance in the United States for more than 1 in 10 Americans and almost 1 in 4 children. This crucial food delivery supply chain, to many of the nation's most vulnerable citizens, receives little financial investment, and today relies primarily on a combination of corporate philanthropy, nonprofit organizations, and dwindling government resources to ensure secure food delivery to those in need.
A Public-Private Effort – New Opportunities Available?
The U.S. network of food banks and their end-relief agency partners, such as soup kitchens and homeless shelters, receive food from many of the same sources – for example, corporate factories, distribution centers, etc. – patronized by large grocery stores. They also deal, though, with much more diverse supply sources; the U.S. Department of Agriculture is the prime example, but individual citizens also make some generous donations, and local food collection drives and store closeouts also help significantly. These charitable food banks and their partners do not, however, receive the same financial investments that their corporate counterparts do in terms of supply chain systems designed primarily to promote efficiency, security, and resiliency in their operations.
Experts from industry, government, and various charitable groups joined forces in 2001 to assess the supply chain network design. From these discussions, fortunately, a number of opportunities for improvement through the quick deployment and use of information systems were developed. As part of this effort, supply chain technologies are now reaching the populations in the last stages of the charitable supply chain. The impact of these changes and the corresponding data developed as a result have had a favorable effect on efficiency, resiliency, ability to sample, rapid-response capabilities, and ability to meet the immediate and continuing needs of the nation's most vulnerable populations.
Earlier, though, in response to the issues threatening the safety of the food chain, a team of for-profit and nonprofit players – led by Feeding America®, a longtime domestic hunger-relief charity, and The Aidmatrix Foundation – joined forces in 2002 to create a set of online hunger relief solutions: DonorExpress™, AgencyExpress™, the Choice™ System, and Virtual Aid Drive™. This public-private partnership took highly sophisticated state-of-the-art technologies and applied them, in a modified form, to help humanitarian efforts throughout the country. Since their inception, these hunger relief solutions have helped facilitate the distribution of an estimated five billion pounds of food to humanitarian organizations throughout the United States.
The Hunger Relief Process: Creating Two-Way Benefits
Starting at the beginning of this charitable relay race is DonorExpress, a food supply donation system that manufacturers can use to make their product donations available to Feeding America online, sometimes integrated into their internal food manufacturing and distribution systems – and will receive tax benefits by doing so. Today, many of the nation's largest food companies donate their excess products through DonorExpress, and all of Feeding America's more than 200 food banks around the county have access to the donations.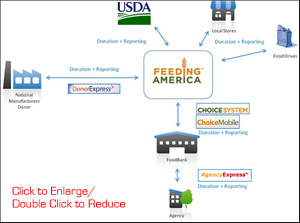 After those offers are made, the Choice System – which was developed by Aidmatrix, Feeding America, and the University of Chicago – comes into play. Food banks have the opportunity to choose more wisely the foods they want to provide their agencies. This online auction system allocates each food bank a certain number of points, based on factors such as the number of people and the respective poverty levels they serve, with more points awarded to those with the greatest need. As the available food is posted online, each food bank is permitted, in a twice-daily online auction, to bid its points toward the foods it wants.
Finally, after those donations reach the local food bank, AgencyExpress – a hunger-relief program that uses an online shopping network to enable member food banks to list food inventories online – comes into play by providing hunger-relief agencies the opportunity to view and order food from their food banks in a simple and efficient manner. The technology used not only minimizes paperwork but also provides an updated inventory list, in real time, to local agencies. It also: (a) helps hunger-relief agencies place orders;  (b) provides status updates; and (c) stores histories of the orders placed.
To date, more than 50 food banks use this online shopping system. Among them are some of the busiest food banks in the United States – for example, the Greater Chicago Food Depository and the North Texas Food Bank. Agencies nationwide are now placing more than 1,500 orders each day, and a total of almost 300 million pounds of food was shipped through the system in 2012.
Disaster Food Relief During & After Hurricane Sandy
Ensuring food security and food safety within the hunger relief supply chain is a major concern for all involved in the process. From large corporations to local soup kitchens, the technology must be in place to ensure that all food moving through the system is subjected to the same safety regulations that apply to foods being shipped to grocery stores. With the necessary automation tools and process controls in place, the system has the ability to track movements, identify irregularities, and – if and when needed – issue emergency recall orders.
Newer applications of the technology now available help improve operations and security in even more challenging sites on the charitable supply chain – the National Donations Management Network™, for example, which supports 52 states and U.S. territories, as well as major metropolitan areas, in coordinating and protecting the chain in numerous disaster-giving operations. Thanks in large part to the significant government, nonprofit, and private-sector partnerships that have been developed, this system is helping to ensure that the right aid is being delivered at the right time during responses to disaster activities.
Not incidentally, such aid includes ensuring the scalability of the system in times of disaster. During Superstorm Sandy in 2012, for example, the food banks in both New York and New Jersey were able to scale up their responses to meet the vastly increased needs of the storm-ravaged communities throughout the entire area. The food banks of the two states saw increases of four times the average monthly volume during the first month of the long-running disaster response efforts. Fortunately, because their supply chain systems empowered them to scale on-demand, both states also were able to mobilize assistance from across the nation and process additional requests.
Securing the ad hoc supply chains that come together in times of sudden disaster is an extremely daunting challenge, but having the right systems in place ahead of time is the essential linchpin to ensuring the security and effectiveness of the relief activities carried out. Today, as the financial support provided by the federal government for these activities continues to decline, the state and local governments now on the front lines of response must rely more often on distribution systems such as those mentioned above. In addition, such leading corporations as Fidelity, Microsoft, and UPS are taking the steps needed to help these systems continue to thrive in the face of uncertain funding climates.
In short, the charitable supply chain for food relief is a significant nutritional delivery mechanism within the United States. The public-private partnerships directly involved aligning their individual and collective interests, raising the overall effectiveness of the charitable food supply chain, and providing life-saving benefits to the more than 50 million Americans currently living in food-insecure households. The success of the supply chain is dependent on the continued investments of industry and charitable organizations using their extensive expertise to help create and expand the systems that provide safe and secure food supplies to the nation's most vulnerable populations.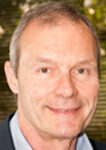 Former Wisconsin Governor Scott McCallum has more than 30 years of executive experience leading organizations in the private, nonprofit, and government sectors. He was elected lieutenant governor four times before becoming one of the youngest state senators in Wisconsin history. He also has taught at the University of Wisconsin-Milwaukee, Northwestern University, Sun Yat-Sen University, and Hunan University in China, and is presently an adjunct professor in the School of Health and Medicine at the University of Wisconsin-Madison. He also serves as president and CEO of The Aidmatrix Foundation, a nonprofit organization that annually has mobilized and distributed more than $1.5 billion in aid worldwide. With operations on six continents and more than 52,000 user organizations, Aidmatrix has been serving the humanitarian sector since 2000 by providing the humanitarian-relief supply chain technology and the internet information systems needed to connect private sector businesses, government agencies, and nonprofit organizations with one another to carry out their individual and collective missions more efficiently.