In the past decade, innovations in technology have changed the way business managers think about security. In addition to protecting employees, assets, facilities, and operations, security systems now offer much more than just physical protection.
An increasing number of companies are leveraging their existing security systems to gain key insights for improving business and operational efficiencies. Not long ago, employees could only access facilities with metal keys and key cards; and video surveillance and monitoring could only occur on site. Now, solutions like mobile security management offer information technology managers the ability to access and monitor multiple locations – anywhere and at any time.
In 2014 and beyond, such innovations in security technologies will continue to evolve. Following are five key security trends to watch in 2014.
The Cloud – Tangible Applications of Cloud Services 
The "cloud" is a buzzword that has continued to receive tremendous hype over the years, and for good reason. Cloud services offer organizations in both the government and commercial sectors the ability to access and share resources over a large network, while at the same time reduce the total cost of ownership.
Although there historically have been security concerns about cloud services, hosted services actually have the ability to improve physical security by providing a comprehensive system across multiple buildings and locations, rather than integrating individual solutions that would require additional resources to manage. Cloud-based security services – hosted video, for example – also allow multiple users at various locations to simultaneously view and monitor one particular site. The cost-saving benefits alone have a significant impact on the bottom line for businesses, which is why more organizations with large, global footprints are likely to integrate cloud-based services into their operations in 2014.
Wireless Technology – The Evolution of Mobility 
Over the past decade, wireless use has increased significantly. Mobile phones today can do much more than simply place phone calls. Innovations in mobile technology offer instant access to people, information, and video – all with a device that can fit in the palm of the hand. Some of the ways many organizations are using mobile technology include: (a) for integrating of security systems; (b) as emergency response tools to notify local responders about incidents; and (c) to instantly push mass notifications to a large network of targeted people. In the upcoming year, organizations without a current mobile operations plan will likely begin laying the foundation for one.
Having a mobile security management system also can: (a) provide anytime, anywhere control over access to a location; (b) help prevent unauthorized visitors from entering a facility; or (c) restrict access to sensitive areas of operations. Such systems have the capability to store data on theentity of who enters a facility, the time of day or night people enter and exit the facility, and the duration of each visitor's stay. In addition, these tools help to better monitor departmental and other critical activities related to the security and operations of an organization.
Standards – Internet Protocol (IP) Video 
Proprietary protocols used to be the norm in the security industry, and manufacturers focused on setting up rules and regulations specific to their security systems, rather than focusing on the industry's needs. Driven by end users, the demand for device interoperability has placed a greater emphasis on companies working together to align with industry standards. By having systems and devices that can communicate with each other, the end users are not limited to purchasing from a single vendor.
The Physical Security Interoperability Alliance (PSIA) and the Open Network Video Interface Forum (ONVIF) are just two examples of groups working to improve the interoperability of devices across the board. PSIA heavily focuses on promoting interoperability of IP-enabled security devices and systems across the physical security ecosystem, and ONVIF is dedicated to creating a standard for how IP products within video surveillance and other physical security areas can communicate with each other. Although this shift away from the "every man for himself" (or in this case manufacturer for itself) mentality has certainly taken some time, there is an increasing number of organizations that continue to push for industry excellence through new standards.
Distance Biometrics – New Way to Deploy Biometrics 
Biometrics providesentity authentication based on physical characteristics such as fingerprints, hand geometry, and face or iris recognition. With biometrics technology, once the system scans a specific part of the body, it can quickly authenticate that person'sentity to allow or restrict access to facilities or sensitive areas of operation.
Despite its "cool factor," biometrics technology also raises some concern about the risk of transmitting disease. For example, fingerprint readers require that a person touch them, as does everyone who needs access to a room, laptop, or device. To address this concern, companies are beginning to implement "biometrics at a distance." For instance, there are now high-definition cameras that scan for facial recognition as a person approaches from 15 feet away, which eliminates any concern about spreading disease or germs. This segment of biometrics certainly will continue to expand.
Business Intelligence – A Security Benefit 
Companies are starting to realize the larger benefit of having an integrated security system: business intelligence. The same technology that companies already use for physical security offers business owners powerful insights into their operations, performance, and customer behavior. For example, well-designed video systems let business owners capture, save, and export video segments that offer key insights into concerns such as: whether employees are complying with corporate policies; the busiest times of day and whether more staff is requires; and the time of day when thefts most often occur. Email and text alerts paired with mobile access to live video offer awareness of after-hours access, entry into sensitive areas, and activation of video sensors.
These five security trends are important for improving the overall operations in critical areas like loss prevention, workplace violence, and the physical security of facilities. In 2014, it will be exciting to see how these trends continue to evolve, and what other security innovations lie ahead.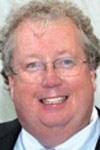 Jay Hauhn is the chief technology officer and vice president of industry relations at Tyco Integrated Security, where he is responsible for: product technology and innovation; industry and government relations; interaction with industry associations, regulatory agencies, and local, state, and federal governments; product and service solution development and engineering; as well as development and implementation of product strategy. He is the current president of the Central Station Alarm Association. His recent honors include being: inducted into the Security Industry Hall of Fame in April 2011; recognized as one of the "Security Industry's Most Influential People" in 2012; and named one of the 40 "Most Influential People in Security & Fire" by IFSEC (International Fire and Security Exhibition and Conference) in 2013.