Credentialing is defined as the process of establishing an individual's background, legitimacy, and qualifications for performing a specific task – and in that context is a key tool in the interstate deployment and interoperability of trusted resources when disaster strikes. There are many extant credentialing systems used by various agencies and organizations in the emergency- management field. However, and despite the availability of such systems, a need for consistency in credentialing prompted the development of national credentialing standards under the National Response Plan of the Department of Homeland Security (DHS).
By definition, a national standard applies to all levels of government – federal, state, tribal, and local.  Among the most important requirements of the proposed national credentialing system are that:  (1) It must be able to function within existing jurisdictional protocols, if feasible; (2) Its deployment cannot impose an undue burden on the numerous jurisdictions at various levels of government; (3) It must conform to the protocols, principles, and guidelines set forth in the federal Incident Command System (ICS); and (4) Current emergency-responder credentialing systems must be used or integrated with the national system whenever possible.
The development of a national credentialing system – a fundamental underpinning of the National Incident Management System (NIMS) – has specifically been assigned to the Federal Emergency Management Agency's NIMS Integration Center (NIC). That important task also involves: (a) The development of standards for and/or related to the level and currency of an individual's training, experience, physical and mental fitness, and professional capabilities; (b) The use of establishing/accrediting organizations to carry out credentialing certification and training programs; and (c) The standardization of not only job titles but also credential documentation and recordkeeping so that all appropriately qualified emergency responders in all jurisdictions, at every level of government, can be quicklyentified and dispatched if, when, and where disaster strikes.
Consensus Agreement on Titles, Qualifications, and Gaps 
As part of the credentialing standards development work, seven stakeholder working groups were formed to address, and then approve by consensus: seven discipline-specific job titles in emergency management; the role that responders in each discipline would be assigned in critical activities; and the qualifications, certifications, training, and education that those responders would have to meet.
The stakeholders involved in developing the job titles not only reached consensus on the "requisite" as well as "recommended" baseline standards (for education, training, experience, physical/medical fitness, certification, and licensing) but alsoentified certain gaps in the responder roles that NIMS-level decision makers would have to address.
With regard to the deployment of emergency responders, FEMA's National Emergency Responder Credentialing System – another system developed by the NIMS Integration Center (NIC) – has been assigned the responsibility ofentifying and mobilizing qualified responders, selecting them based on standardized job titles and descriptions.
The principal purpose of the DHS credentialing initiative is to develop integrated and comprehensive systems forentifying, and deploying, credentialed responders – and other qualified personnel resources – to deal with a major incident when local resources are overwhelmed.  As with all national standards, the stakeholder participation in developing credentialing standards is voluntary, as is stakeholder use of a finalized credentialing standard.   However, it is important to note that acceptability for federal grants and funding is tied to a stakeholder's participation in such DHS initiatives.
On 21 November 2008, a draft of the proposed NIMS Guideline for the Credentialing of Personnel was distributed for use and comment by emergency-management professionals and other key stakeholders in the government and private sectors. Earlier this year (in April), FEMA produced the 2009 Annual Operating Plan for the National Preparedness Directorate, which lists the finalization of credentialing guidelines as one of its principal goals and names NIC and the Incident Management Systems Integration (IMSI) division as the leading agencies involved in that task.
_______________
For additional information: On job titles, see http://www.fema.gov/pdf/emergency/nims/ems_jobtitle_0308.pdf;
On the NIMS Credentialing Guideline, see http://www.fema.gov/good_guidance/download/10280;
On the 2009 FEMA Annual Operating Plan for the National Preparedness Directorate, see http://www.fema.gov/pdf/about/divisions/npd/npd_operating.pdf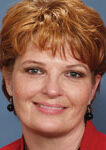 Diana Hopkins is the creator of the consulting firm "Solutions for Standards" (www.solutionsforstandards.com). She is a 12-year veteran of AOAC INTERNATIONAL and former senior director of AOAC Standards Development. Most of her work since the 2001 terrorist attacks has focused on standards development in the fields of homeland security and emergency management. In addition to being an advocate of ethics and quality in standards development, Hopkins is also a certified first responder and a recognized expert in technical administration, governance, and process development and improvement.