In September, in the space of less than a week, six men in five states were arrested and charged with a variety of terrorist plots designed to murder Americans here at home. The men, all of whom acted independently of each other, were involved in four separate conspiracies.
The most significant arrests were of Najibullah Zazi in Aurora, Colorado, on 23 September, as well as his father and a third suspect, a Muslim cleric named Ahmad Wais Afzali, in Flushing, N.Y. It is believed that they were members of the first actual Al Qaeda plot to target Americans on the U.S. mainland since the 9/11 attacks. If that theory is borne out by the investigation now underway, it will be clear evidence not only that Al Qaeda still has teeth but that the American people will continue to be at risk – at home – far into the future.
A number of other Islamic extremists planning attacks have been apprehended in the United States since the 9/11 attacks, but it is believed that virtually all of the post-9/11 would-be terrorists were home-grown misfits, fantasists, and copy-cats. None had been trained abroad and/or specifically tasked by Al Qaeda to carry out attacks. Zazi, by contrast, is believed to have been trained in an Al Qaeda camp in Pakistan and to have been taking orders from Al Qaeda's high command. In addition, he appears to have accessed web sites on his personal computer – which contained information on bomb building.
Zazi was born in Afghanistan and immigrated to the United States when he was fourteen. Unbelievably, he was a shuttle-bus driver at Denver's international airport, which is clear evidence of the shoddy state of the background screening of foreign-born workers connected to the aviation industry.
Highly Explosive, and Readily Available
Fearing that an attack might be imminent, police and federal agents apparently moved more quickly than they had planned against Zazi and his confederates, and as a consequence were not able to arrest all of the suspected conspirators – or, as of early November, to find the materials that were intended to be used by the terrorists to build their explosives. It is believed that Zazi was planning to make explosive devices based on hydrogen peroxide similar to those used in 2005 in the series of attacks on the London subway system that killed 52 people and/or to the bomb found in the shoe of Richard Reid that was fitted with a TATP trigger.
TATP (triacetone triperoxide) is highly explosive, even in small quantities. Hydrogen-peroxide bombs can be assembled from a variety of readily available chemicals and materials, such as hydrogen peroxide itself, nail polish remover, and yeast; the same materials can be combined with other chemicals to make TATP or HMDT (hexamethylene triperdiamine – another very powerful explosive made of sulfuric acid, hydrogen peroxide, and acetone).
The U.S. government has receipts of Zazi's purchases as well as videotapes of his shopping sprees for the ingredients that could be used to fabricate explosive devices. Authorities also discovered fourteen back packs – as well as a large number of cell phones, and a digital scale – in one of the New York safe houses frequented by the alleged terrorists. Here it should be recalled that the terrorists in both London and Madrid (the site of another major bombing incident) carried their bombs in backpacks. It is believed, partly for that reason, that the targets of the Zazi group were likely to be mass-transit systems or sports arenas or stadiums.
One of the more disquieting aspects of the Zazi arrest is that he was tipped off by Afzali – who was an FBI informant and had assisted the Bureau in the past – that the police had been asking questions about Zazi.
The Zazi case was considered of such high priority that President Obama was reportedly briefed "three to four" times a day about his movements. Zazi was arraigned in New York, and pleaded not guilty, but the full scope of the plot and its membership are still being investigated, and sources suggest that the government is either watching or looking for as many as two dozen other possible suspects.
Rectal and Underwear Bombs
Along with growing concern over Al Qaeda "sleepers" in the United States comes news of a possible new IED (improvised explosive device) bomb threat. On 27 August, Saudi Arabia's Prince Mohammed bin Nayef, that nation's counterterrorism chief, was slightly injured by a suicide bomber who detonated a device, which used the explosive PETN (pentaerythritol tetranitrate – yet another very powerful explosive), while attending a Ramadan reception. The device escaped detection, according to some sources, because it was hidden in the bomber's rectum. (But other reports suggest that the bomb had been secreted in the terrorist's underwear, and that he had counted on cultural taboos to escape a more careful search by security guards.)
The terrorist died in the attack and the prince sustained minor injuries, probably flash burns, to his fingers. Sources have theorized that the bomb did not cause greater damage because the device: (1) contained fewer than a hundred grams of explosive; and (2) was shielded by the terrorist's own body. Moreover, if it had been hidden in his rectum, there would have been very little room left for ball bearings, nails, or other shrapnel, which are terrorist weapons of choice because they usually produce the most injuries.
It should come as no surprise that terrorists would use body orifices to hide explosives since criminals have been smuggling illegal drugs, especially heroin, that way for years. If it is confirmed that it actually was a rectal bomb that was used in the attack on Prince Mohammed it would be further evidence of the fanaticism of at least some of the terrorists confronting the United States today.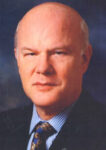 Dr. Neil C. Livingstone, chairman and CEO of ExecutiveAction LLC and an internationally respected expert in terrorism and counterterrorism, homeland defense, foreign policy, and national security, has written nine books and more than 200 articles in those fields. A gifted speaker as well as writer, he has made more than 1300 television appearances, delivered over 500 speeches both in the United States and overseas, and testified before Congress on numerous occasions. He holds three Masters Degrees as well as a Ph.D. from the Fletcher School of Law and Diplomacy. He was the founder and, prior to assuming his present post, CEO of GlobalOptions Inc., which went public in 2005 and currently has sales of more than $80 million.