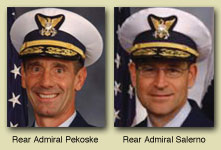 DomesticPreparedness met with Rear Admiral David P. Pekoske, USCG, Assistant Commandant for Operations, and Rear Admiral Brian M. Salerno, USCG, Director of Inspection and Compliance, U.S. Coast Guard.
Two Coast Guard senior leaders discuss the service's new Strategy for Maritime Safety, Security, and Stewardship, focusing primarily on the maritime-security issue and various related enhancements to legal regimes and operational capabilities.
DomPrep has divided the 33 minute interview into 5 segments.
Download full audio interview to your MP3 player.
Listen to Audio Segment One An Overview of the Coast Guard's Maritime Strategy
The Strategy's all-hazards, all-threat orientation and what it means for interagency and intergovernmental command and coordination; the legal regimes — in particular those assigned under the Maritime Transportation and Safety Act (MTSA); liaison with other agencies and maritime stakeholders; and new security standards in development.
Duration: 6 Minutes 48 Seconds
Listen to Audio Segment Two Maritime Domain Awareness (MDA)
The current definition of MDA as situational awareness plus intel for monitoring and detection; the Coast Guard's work with the Department of Defense (DOD) and other agencies, as well as with state and local jurisdictions, the private sector, and international partners; the challenge of scale when it comes to the increased size of cruise ships, containerships, and tankers.
Duration: 7 Minutes 29 Seconds
Listen to Audio Segment Three Operational Capabilities
What additional command-and-control (C2) centers bring to operational capabilities; shore-based maritime-patrol operations and the interface with port authorities; Customs and Border Protection (CBP) and the U.S. Navy; deployable specialized forces, for all threats and hazards; the use of a service-oriented architecture for the Coast Guard's user-defined operational pictures.
Duration: 6 Minutes 31 Seconds
Listen to Audio Segment Four Interagency Partnerships
USCG and interagency progress in the "need-to-share" culture; the status of the USCG relationship with the FBI today with regard to maritime threats; the USCG effort with the Federal Emergency Management Agency (FEMA) to develop mobile command centers.
Duration: 5 Minutes 49 Seconds
Listen to Audio Segment Five Emerging Threats and Challenges
Enhanced countermeasures to meet the threat posed by water-borne improvised explosive devices (WBIEDs); the convergence of terrorist and criminal networks and its impact on the Coast Guard; how and why the nuclear WMD threat is greater from a smaller vessel than from a containership; the Maritime Operational Threat Response (MOTR) process; how the Maritime Security Risk Assessment Methodology (MSRAM) is supporting unified CMT (Combating Maritime Terrorism) planning; the threat of global warming in terms of security in the Arctic.
Duration: 6 Minutes 06 Seconds
Rear Admiral David P. Pekoske, the Coast Guard's assistant commandant for operations, is responsible for a broad range of Coast Guard programs essential to public safety and to the nation's homeland defense. A 1977 graduate of the Coast Guard Academy, Pekoske previously served as commander, First Coast Guard District, and commander, Maritime Defense Command One, in which post he was responsible for all Coast Guard missions in the Northeast region of the United States.
Rear Admiral Brian M. Salerno, USCG, is the Coast Guard's director of Inspection & Compliance, and in that post has oversight responsibility for, among other branches and agencies, the offices of Boating Safety, Port & Facility Activities, the National Maritime Center, and the National Vessel Documentation Center. A graduate of Stonehill College, he received his commission after graduating from the Coast Guard Officer Candidate School in December 1976. His previous assignments included duty as marine safety advisor to the Panama Canal Authority and as federal maritime security coordinator.