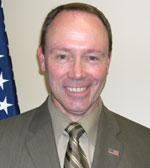 DomPrep's John F. Morton met with Vayl Oxford, Acting Director, Domestic Nuclear Detection Office (DNDO), Department of Homeland Security
at Oxford's office in Washington, D.C. Mr. Oxford discussed the newly established DNDO by outlining its brief, deployment strategy and interfaces with other federal agencies and the IC community, states, locals and the private sector. Itemizing some of the most promising radiological- and nuclear-detection technologies, he illustrated the DNDO contracting and program management model with the Advanced Spectroscopic Portal monitor. Looking to the future, he spoke of developing a global nuclear- detection architecture.
DomPrep.com divided the 19 minute, 13 seconds interview into three segments.
Listen to Audio Segment One DNDO's Brief, Deployment Strategy, and Interfaces
The DNDO mission priorities on detection architectures, enhanced information sharing and research and development (R&D). The DNDO detection deployment strategy and multi-layered partnering with the private and public sectors, including local entities and academe.
Duration : 6 Minutes 14 Seconds
Listen to Audio Segment Two Detection Technologies
The Advanced Spectroscopic Portal (ASP) program. Development of integrated passive detection and radiography systems. Emphasis on detecting shielded radiological materials. Developmental time-lines.
Duration : 6 Minutes 14 Seconds
Listen to Audio Segment Three Program Management and the Future
The ASP program as a model for DNDO R&D and procurement. Including the users, representatives from the law enforcement community, in the test and evaluation process. DNDO and international efforts. DNDO outreach to state and local communities on the front line of prevention.
Duration : 6 Minutes 59 Seconds
Mr. Vayl Oxford is the Acting Director, Domestic Nuclear Detection Office (DNDO) reporting to the Secretary of the Department of Homeland Security with responsibility for the establishment of the new, jointly staffed office and for directing all activities associated with the organization. This office serves as the primary entity in the United States Government to develop, acquire, and support the deployment of an enhanced domestic system to detect and report any attempt to import, transport or use an unauthorized nuclear explosive device, fissile material, or radiological material in the United States. Mr. Oxford is responsible for directing the DNDO efforts to: coordinate the nuclear detection efforts of Federal, State and local governments and the private sector to ensure a coordinated response; establish procedures, protocols and training for Federal, State and local officials; execute an evolutionary and transformational research and development program; develop the global nuclear detection architecture; support the effective sharing and use of mission-related information and intelligence; and maintain continuous awareness by analyzing information from all DNDO mission-related detection systems.