A healthy community is a resilient community. From pandemic threats to school shootings, crisis events continue to affect the health and wellbeing of the surrounding human population long after the crisis ends. These health effects can then weaken a community's ability to cope with future disasters. As such, physical, psychological, environmental, and technological factors all play key roles in determining how well a community prepares for, mitigates, responds to, and recovers from a disaster.
Hurricanes and other natural disasters have both immediate and long-term consequences, which extend the recovery time. However, when a community is isolated, the consequences can be even greater. For example, the 2017 hurricane season has spurred the U.S. Virgin Islands Emergency Medical Services to address this concern and the islands' specific needs by endeavoring to deploy a community paramedicine model.
Infectious diseases and pandemics may indicate a crisis, or they may be secondary or tertiary consequences of another crisis. Regardless, the original source of the disease may be unknown or may have travelled a long distance before manifesting. Because of the wide-ranging implications related to disease, planning strategies may require a multijurisdictional or even global approach in order to prevent, detect, and respond to these threats.
Other key players in mitigating public health emergencies include environmental health professionals, who help bridge the gaps that often exist between the various sectors involved in addressing key public health concerns. Whether naturally occurring or human caused, early and coordinated intervention with all key stakeholders is critical. Recognizing the signs and symptoms of an emerging threat saves lives. This is true regarding those falling ill at the beginning of the influenza season or terrorists using new tactics to interfere with the food supply.
Building a healthy and resilient community goes beyond the visible and physical effects of a disaster. The psychological trauma, in some cases, can be even more devastating than the physical trauma in the long term. Ignoring this fact could compromise a community's preparedness and response efforts and risk the health and lives of its citizens. This edition of the DomPrep Journal addresses these concerns and provides lessons learned from previous disasters.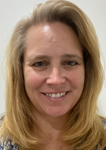 Catherine L. Feinman, M.A., joined Domestic Preparedness in January 2010. She has more than 30 years of publishing experience and currently serves as editor of the Domestic Preparedness Journal, DomesticPreparedness.com, and the DPJ Weekly Brief, and works with writers and other contributors to build and create new content that is relevant to the emergency preparedness, response, and recovery communities. She received a bachelor's degree in international business from the University of Maryland, College Park, and a master's degree in emergency and disaster management from American Military University.