DomesticPreparedness met with Captain Michael B. Anderson, National Program Manager, Metropolitan Medical Response System (MMRS). In this wide-ranging invterview, Captain Anderson discusses mass-casualty preparedness, highlighting the current emphasis on regional collaboration, implementation of HSPD-8, best-in-show MMRS steering committees, and this month's move of MMRS to FEMA.
DomPrep has divided the 36 minute interview into 5 segments.
Download full audio interview to your MP3 player.
Listen to Audio Segment One An Overview of MMRS Today
The current emphasis on radiological/nuclear response plans and regional collaboration in line with HSPD-8 national all-hazards preparedness. The move of the MMRS National Program Office to FEMA and the implications for state and local jurisdictions. Pandemic planning at the local level, medical caches, and the role of the Citizen Corps.
Duration: 13 Minutes 43 Seconds
Listen to Audio Segment Two MMRS and HSPD-8
Meeting National Preparedness Goals and the HSPD-8 target capabilities. The importance of the MMRS Steering Committee, and a rundown on some of the best organized and most effective steering committees nationwide. Hospital tiering and Health Resources and Services Administration (HRSA) benchmarking in line with HSPD-8.
Duration: 9 Minutes 34 Seconds
Listen to Audio Segment Three The State of Play Locally
Steering Committee liaison with state emergency management for ESF-8 Medical Support. MMRS National Program Office technical assistance and funding priorities for integration and coordination. MMRS utilization of the National Disaster Management System (NDMS) for patient movement.
Duration: 6 Minutes 35 Seconds
Listen to Audio Segment Four MMRS Integration Issues
The need to convey hospital and medical requirements to the nation's law-enforcement and fire-and-rescue communities.
Duration: 1 Minutes 55 Seconds
Listen to Audio Segment Five NIMS and MMRS
MMRS as the "big tent" for public health, tier-one hospitals, law enforcement, fire and rescue, EMS, emergency management, and the coroner for medical-incident management.
Duration: 4 Minutes 12 Seconds
Captain Michael B. Anderson is senior advisor for public health and emergency preparedness, Office of Grants and Training Preparedness Directorate, a component of the Federal Emergency Management Agency, at the U.S. Department of Homeland Security. He also is the national program manager for the Metropolitan Medical Response System. Captain Anderson has more than 15 years service in the U.S. Army, U.S. Air Force, and the Commissioned Corps of the U.S. Public Health Service, and has more than 15 years of experience in medical response planning and response operations.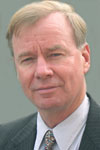 John F. Morton is the Strategic Advisor for DomPrep. He is also the Homeland Security Team Lead for the Project on National Security Reform (PNSR). A member of the DomPrep team since its founding, he has served as managing editor for writer assignments and interviewer for scores of DomPrep audio interviews.