This special edition of the DomPrep Journal focuses on the field of emergency management, which embodies the essence of DomPrep's mission: to bridge the emergency preparedness gap between disciplines and jurisdictions. True leaders in the field demonstrate through continued action that emergency preparedness does not begin or end with a job title.
Kay Goss, Craig Fugate, and Richard Serino are just three of the internationally renowned emergency managers who have moved on from their federal roles, but have not slowed down in their efforts to make communities and the nation safer and more prepared for the next disaster.
Emergency preparedness necessarily includes stakeholders from all disciplines at all levels: from school-aged children to seasoned professionals who have spent a lifetime acquiring their knowledge and skills. As the frequency and intensity of disasters change, the need to protect children and to introduce emergency management skills to youths in schools and beyond (such as FEMA Corps) is growing. This means including youths in the preparedness process by listening to their views and integrating them into the workforce.
The future of emergency management is here, and its success lies in the intergenerational, interdisciplinary, and interjurisdictional cooperation and collaboration of all stakeholders. By understanding the versatility of emergency management, stakeholders can better understand their roles in emergency management even if they do not hold the title of "emergency manager." For those well versed in emergency management, mentorship is the key for passing on legacy knowledge to the emerging workforce.
Since its inception nearly 20 years ago, DomPrep has always aligned itself with dedicated, forward-thinking professionals that span disciplines and jurisdictions. This edition builds on this network by welcoming the next generation of professionals who are just now beginning to enter the workforce, regardless which profession that may be. Through joint efforts and effective communication, together we can continue to bridge any existing emergency preparedness gaps and build more resilient communities.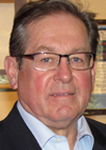 Martin (Marty) Masiuk is president and founder of International Media Representatives Inc. (IMR Group Inc.), which was established in 1986 as an American-based media representation firm for overseas, aerospace, and defense publications. In 1998, under the IMR Group, he established DomesticPreparedness.com, which has evolved into a highly trusted, and important information service for the multi-disclipline, multi-jurisdiction preparedness community. In 2014, he transitioned the DomPrep40 into the Preparedness Leadership Council to lessen the burden on and increase the effectiveness of operational preparedness professionals and help policy professionals make better-informed decisions. Prior to IMR Group, he served as an account representative for McGraw Hill's Business Week and Aviation Week & Space Technology publications.