Throughout National Preparedness Month many communities' preparedness plans have been tested. Hurricanes, earthquakes, wildfires, floods, and drought are just some of the threats faced this month. Although preparedness is highlighted during the month of September, recent events reinforce the need for preparedness to be a year-round effort – especially during months when daily operations are not being overshadowed by catastrophe, and agencies and organizations are not being tested in full public view.
As the threat environment continues to evolve, preparedness professionals limit their ability to respond to new and emerging threats when they strive to meet (rather than exceed) minimum requirements. Exercising plans should not be a dreaded requirement, but rather an unusual approach to logical thinking and a way to build a culture of preparedness. Exercises with broad buy in would help communities be ready to face whatever natural, human-caused, or technological disaster may arise. Plans should be exercised and tested during daily operations. For example, special events provide many opportunities to enhance protection and security of critical infrastructure that, if affected, could have catastrophic consequences.
Community leaders have many decisions to make everyday, but it is important to not gloss over the toughest decisions until it is time to make them. Trying to tackle new decisions during a crisis could put responders and survivors at greater risk, so advance research and knowledge sharing are critical. Factors related to disasters that may spur the need to make difficult decisions for the first time include, but are not limited to: whether to evacuate or shelter in place, how to manage animals and their human companions, and which actions to take related to school tragedies. Research on these topics must be conducted before critical decisions need to be made.
In some cases, new concepts and plans may exist that should be considered moving forward. One such concept to consider is the Rescue Task Force, which could offer faster medical intervention – using current resources and command structure – to survivors during active shooter events. In any situation, the more prepared individuals and families are, the more prepared the community is as a whole. Therefore, preparedness efforts should include examining the reasons people may not plan and finding solutions to reach those who remain unprepared for future threats. Despite the best efforts, it would merely be dreaming to assume that everyone could someday be fully prepared for future disaster. However, the more who are prepared, the better resources can be allocated and the more resilient communities would be every month of the year.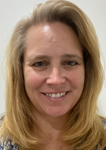 Catherine L. Feinman, M.A., joined Domestic Preparedness in January 2010. She has more than 30 years of publishing experience and currently serves as editor of the Domestic Preparedness Journal, DomesticPreparedness.com, and the DPJ Weekly Brief, and works with writers and other contributors to build and create new content that is relevant to the emergency preparedness, response, and recovery communities. She received a bachelor's degree in international business from the University of Maryland, College Park, and a master's degree in emergency and disaster management from American Military University.