The term "whole community" is frequently used in preparedness materials and discussions. In practice, though, how often is the whole community represented and all community resources considered? Routine planning meetings and exercises use the same phone and email lists. The regular participants get to know each other and build beneficial relationships. The key players in the last emergency response prepare for the next response. 
In a "whole community" effort, there are some key stakeholders and resources that should not be overlooked.  
However, the standard phone and email lists and the contacts from the last response may not include other valuable community stakeholders and critical resources. Even during interagency meetings and exercises, it can be easy to get comfortable with the same names and faces. When emergencies and disasters occur, though, there are many others beyond those participants who could be leveraged for support and resources. Consider the stakeholders and resources that are not always included in whole community planning efforts. For example: 
In general, whole community preparedness means involving key stakeholders in developing preparedness plans and procedures and ensuring that their roles and responsibilities are outlined in those plans. When key players are not involved or valuable resources are not recognized during the planning phase, gaps are realized during the response and recovery phases. For example, as COVID-19 spread, the need for new planning partners and new resources was realized. In addition, the capabilities and contributions of nontraditional partners were recognized. 
With the many lessons from the past two years, now is the time to build resource capacity and look beyond the typical planning partners and resources. Before the next pandemic, school shooting, violent extremist attack, or natural disaster, identify unused or underutilized resources and invite new faces to the whole community planning table.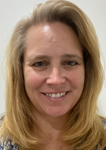 Catherine L. Feinman, M.A., joined Domestic Preparedness in January 2010. She has more than 30 years of publishing experience and currently serves as editor of the Domestic Preparedness Journal, DomesticPreparedness.com, and the DPJ Weekly Brief, and works with writers and other contributors to build and create new content that is relevant to the emergency preparedness, response, and recovery communities. She received a bachelor's degree in international business from the University of Maryland, College Park, and a master's degree in emergency and disaster management from American Military University.