Since the end of the Second World War, nations around the globe have seen the evolution of computers and the internet. The subsequent informational "melting pot" known as the World Wide Web has created a fertile environment for sharing both critical intelligence and fictitious narratives. When state actors leverage their existing conventional military tactics and combine them with ever-evolving cyber technology, this new hybrid warfare tactic introduces numerous new and increasingly challenging political, psychological, and economic threats.
Defending the homeland requires vigilance from all public and private stakeholders. Modern technology and interconnectivity enable bad actors to infiltrate homes, businesses, government agencies, and critical infrastructure – multiple access points with exponentially devastating scenarios if any or all were breached. Prevention is much more desirable – more cost effective and less time consuming – than responding to cascading consequences. One way to detect and better manage such threats is by using threat management units to identify risk factors, mitigate threats, and attempt to prevent disaster.
Communities have in the past and will continue in the future to face risks and threats that are specific to their locales. Historical trends and lessons learned from previous incidents facilitate emergency preparedness planning. However, the introduction of new and emerging threats would require careful consideration of new and potentially more serious consequences – for example, the psychological effects of active shooter training drills on school children, or the public health implications if communities were not physically, emotionally, and legally prepared to respond to complex scenarios.
Now imagine these complicated evolving threats were compounded by a military strike, cyberattack, or other unconnected threat. Or, imagine a state actor deliberately distributing misinformation to instill fear, deflect resources, and instigate an unnecessary (and potentially dangerous) response. Hybrid warfare is not exclusive. It can be launched from anywhere and target anyone. Throughout 2019, the Preparedness Leadership Council will be addressing this tactic and discussing with subject matter experts how to better prepare for and mitigate a potential threat that permeates through communities and requires the attention of the multidisciplinary emergency and disaster preparedness collective.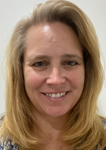 Catherine L. Feinman, M.A., joined Domestic Preparedness in January 2010. She has more than 30 years of publishing experience and currently serves as editor of the Domestic Preparedness Journal, DomesticPreparedness.com, and the DPJ Weekly Brief, and works with writers and other contributors to build and create new content that is relevant to the emergency preparedness, response, and recovery communities. She received a bachelor's degree in international business from the University of Maryland, College Park, and a master's degree in emergency and disaster management from American Military University.