Over the past two and a half years, most emergency preparedness professionals experienced some level of virtual work, even at emergency operations centers (EOCs). Although some would prefer to stay fully remote, the complexity of disasters and other factors may require at least some to report in person. Regardless, it is likely that some aspect of working virtually is here to stay – including during a response. So, when tasked with running a virtual EOC or other operation or assigned to manage a virtual office, the following questions arise: 
What experiences will you draw from the past? 

How will you lead in the same way? 

How will your leadership be different? 

Should it be different? 
There are many harrowing stories of having an in-person team one day and at-home staff the next. The following lessons were learned after fumbling through the initial experience of being a virtual EOC manager and planning section chief for a large city emergency management agency in what, at times, some referred to as the "epicenter of COVID." Stumbling through each day provided a wealth of new knowledge to share. 
Recreate the Hallway/Watercooler Talk 
There is no need to bring in the gossip, but it is critical to see and hear people – especially virtually – to know how they are doing. A physical EOC or office makes it easier to see when people become tunnel visioned or under extreme duress. However, it is difficult to recognize these signs in a virtual environment until it is too late. For example, someone has done something they should not have, or a dedicated worker finally implodes and possibly resigns. None of these are good outcomes. 
Keep Pulse: Call, text, or video conference (rather than email) the various team members just to check in. During these check-ins, do not request status updates on work or ask about deadlines. Instead, check in on them, share pet pictures, and ask what is happening in their world. Ask them how they navigate the virtual response and whether they need anything. These check-ins should not be hour-long discussions. Even a quick two- or three-minute check-in can help identify changes in team members' demeanor. 
Get Comfortable Being Uncomfortable 
This concept involves two parts. The first part of being uncomfortable is the amount of communication. In a podcast episode on leadership, Craig Groeschel says, "We're gonna communicate twice as much as feels natural to you, then double it." This is about frequency, not length of communication. Effective communication is especially critical in a virtual response. Communicate in advance of something. Communicate when something happens. Communicate after something occurs. Assume everyone is building a puzzle, but no one can see anyone else's puzzle piece. You must describe, explain, ask questions, investigate, and be curious. 
Leading a virtual emergency operations center or office has challenges. However, these lessons learned can create a smoother transition. 
The second part of being uncomfortable is being vulnerable. Leading any team means being honest. During an intense response, share personal experiences of dealing with (or not dealing with) the latest happenings. For example, talk about how it felt to hear the 7 p.m. cheer for "healthcare heroes" while simultaneously seeing the near-daily protests locally and around the nation. 
Keep Pulse: Hold regular time and space for the team to discuss what is occurring. Be the first to admit when things are crazy, difficult, or uncomfortable. Openness from a leader gives the team (especially the newer people) permission to be open. Leaders are not therapists but human beings who should listen more than talk. 
Help Put a Face to the Name 
Be the first to turn on the camera and do so every time. When someone calls, answer with video. When hosting a virtual meeting, turn on the camera to take the lead in humanizing the interaction. This visual connection is helpful, especially for new staff or partners who joined during a remote operation. However, do not force others to turn on their cameras. Bringing together staff members who are remote, multi-located, and in person, standing up a daily meeting via a video call with a camera and a microphone enables everyone to hear and see the brief. It may seem small at the time, but this daily interaction helps bring people together. 
Keep Pulse: Regardless of the amount of communication – virtual or in-person – there will often be individuals who say they did not hear or know something. Maintaining consistent visual communications (such as an EOC brief), especially when everyone or a portion of people are working virtually, can help minimize this disconnect. 
Find a Check-In Buddy 
Constantly checking in with the staff, ensuring communication is on overdrive, and advocating for video briefs can be exhausting. Since listening can feel like a full-time job, it is essential to have a reliable person to talk with when needed – for example, a daily call to a family member or friend at the end of the day. These personal interactions can reenergize, introduce subjects other than the current response, and help keep leaders grounded when the world feels like it may collapse. 
Keep Pulse:  Maintaining self-care is just as important as ensuring the well-being of the staff. Demonstrating the importance of self-care and staying grounded is critical for staff members also to build self-resilience. 
Key Takeaways 
Remember, the emergency manager is the link between leadership and the staff in the (virtual) EOC or office. Therefore, maintain intentionality in every action during a virtual response, which includes maintaining personal and team well-being.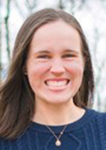 Jennifer Pearsall is a federal emergency manager and founder of EM Peer Wellness, a free peer-driven event newsletter designed to support meaningful connections among emergency managers. For the past eight years, she has served in multiple emergency management roles (paid and volunteer) across nonprofits and at the local and federal levels. She has responded to various disasters, including Tropical Storm Ida, COVID-19, Hurricane Maria, 2016 Louisiana flooding, and 2015 Oklahoma tornados. Pearsall is a proud AmeriCorps alumna, serving in three separate programs. She holds a bachelor's degree in public relations with a minor in leadership from the University of Central Oklahoma. In addition, she has an advanced certificate in emergency management from John Jay College of Criminal Justice.