An Article Out Loud Flashback from the Domestic Preparedness Journal, May 02, 2012.
Hospitals in Florida continued to care for their patients as Hurricane Ian battered their state. This 2012 article describes the type of interagency cooperation and standard of care needed during this crisis.
Narrated by Randy Vivian.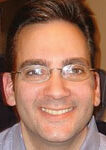 Raphael M. Barishansky, MPH, is the chief of Public Health Emergency Preparedness for the Prince George's County (Maryland) Department of Health. Prior to establishing himself in this position, he served as executive director of the Hudson Valley Regional EMS (Emergency Medical Services) Council, based in Newburgh, New York. A frequent contributor to the DomPrep Journal and other publications, he can be reached at rbarishansky@gmail.com.