An Article Out Loud Flashback from the Domestic Preparedness Journal, September 19, 2012.
Whether responding to mass casualties from a nuclear blast or an attack by a single "Lone Wolf" shooter, hospital preparedness requires careful planning, effective coordination, and collaboration in the sharing of critical resources. Inter-hospital cooperation and training will almost always result in a better outcome than would be possible through single-facility planning efforts.
Narrated by Randy Vivian.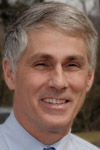 Theodore "Ted" Tully is the Administrative Director for Emergency Preparedness at Mount Sinai Medical Center in New York City. He previously served as Vice President for Emergency Services at the Westchester Medical Center (WMC), as Westchester County EMS (emergency medical services) Coordinator, and as a police paramedic/detective in Greenburgh, N.Y.  He also helped create the WMC Regional Resource Center, which is responsible for coordinating the emergency plans of 32 hospitals in lower New York State.